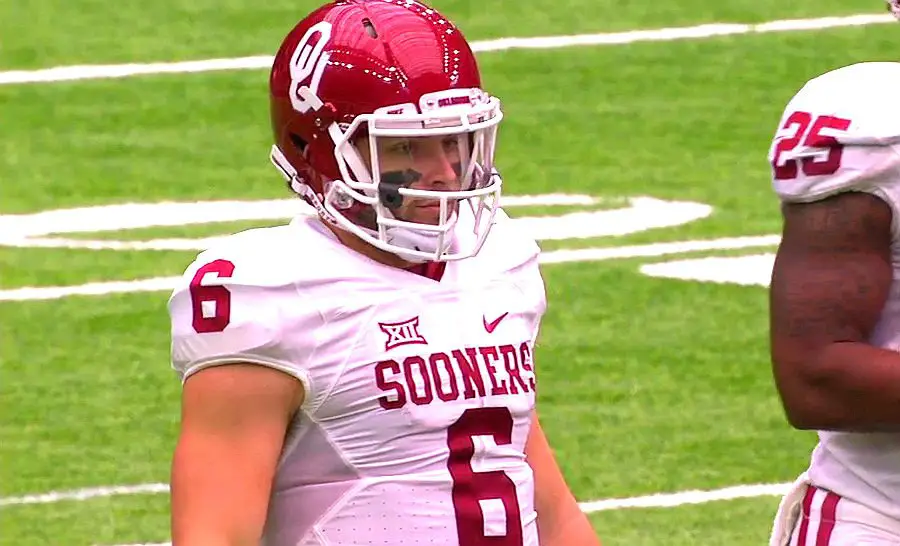 FORT LAUDERDALE, FL, Sporting Alert — Alabama remains No. 1 in the latest Associated Press College Football Top 25 rankings, while Oklahoma made the highlighted move in Week 3.
The Crimson Tide (2-0) made lightweight of Fresno State 41-10 over the weekend for their second win of the season and received 59 first-place votes for 1,522 points.
Next up for Alabama is a home clash against Colorado State on Sept. 16.
Meanwhile, Oklahoma moved three places up to No. 2 in the poll after the securing an impressive victory over the previously second-ranked Ohio State on Saturday night.
The Sooners (2-0) beat the Buckeyes 31-16 on the road to pick up two first-place votes and secured their highest ranking since 2011.
Defending national champion Clemson received the final first-place vote for 1,380 points and held its spot at No. 3 after beating Auburn, which fell two spots to 15th after the defeat.
Southern California moved up two places from sixth following a 42-24 victory against Stanford, replacing Penn State, which fell to No. 5, despite beating Pittsburgh 33-14.
Washington is up one spot to No. 6, Michigan is also up one slot to No. 7, but Ohio State dropped six places to No. 8 after the Sooners defeat.
Oklahoma State at No. 9 and Wisconsin rounded out the Top 10.
Mason Rudolph threw for 335 yards and three touchdowns and ran for a score in a record breaking performance for the Cowboys in a 44-7 win over South Alabama.
Florida State, which was inactive in Week 2, slipped to No. 11, while LSU, Georgia and Louisville sit in the Top 15.
Virginia Tech is up two slots to No. 16, Miami and Kansas State are 17th and 18th, while Stanford fell five spots to No. 19 and TCU closed out the Top 20.
The bottom five is completed by Washington State, South Florida, Tennessee, Florida and UCLA, the new team in the rankings at No. 25.
Notre Dame was the team leaving the rankings this week.
AP Top 25 – Rankings
Monday, September 11
RK TEAM REC PTS
1 Alabama(58) 2-0 1522
2 Oklahoma(2) 2-0 1447
3 Clemson(1) 2-0 1380
4 USC 2-0 1324
5 Penn State 2-0 1299
6 Washington 2-0 1124
7 Michigan 2-0 1107
8 Ohio State 1-1 1003
9 Oklahoma State 2-0 1002
10 Wisconsin 2-0 993
11 Florida State 0-1 944
12 LSU 2-0 935
13 Georgia 2-0 882
14 Louisville 2-0 658
15 Auburn 1-1 591
16 Virginia Tech 2-0 559
17 Miami 1-0 542
18 Kansas State 2-0 475
19 Stanford 1-1 364
20 TCU 2-0 352
21 Washington State 2-0 233
22 South Florida 2-0 188
23 Tennessee 2-0 159
24 Florida 0-1 146
25 UCLA 2-0 119 NR
Dropped from rankings: Notre Dame 24
Others receiving votes: Utah 101, South Carolina 72, Colorado 66, West Virginia 63, Oregon 61, Maryland 42, Notre Dame 31, San Diego State 16, Houston 10, Mississippi State 3, Boise State 3, California 2, Vanderbilt 2, Iowa 2, Texas Tech 2, Michigan State 1