CHICAGO, Sporting Alert – Grayson Allen scored a career-high 37 points and made seven 3s and No. 1 Duke beat No. 2 Michigan State 88-81 in the State Farms Champions Classic in Chicago Tuesday night.
The game lived up to the hype, as both teams traded blows and went on several runs throughout the entire contest before Allen and Duke took over late and went on to win it.
With 3:59 left, The matchup was locked at 75-75, but Allen, who played 40 minutes and shot 11 of 20 overall, scored eight quick points during that period in a 13-4 run to see the Blue Devils (3-0) home.
Allen was clearly the difference in the game after he played all 40 minutes and stepped up whenever his team needed a big play. The senior guard particularly came alive after the break — scoring 21 points in the second half and knocked down five 3-pointers during that period.
---
Trevon Duval was again impressive after the freshman point guard had 17 points, 10 assists, six steals and three rebounds for Duke, which had 21 assists on 30 made field goals.
Wendell Carter Jr finished with 12 points and 12 rebounds in the win for the nation's top-ranked program.
Three Michigan State players scored 19 points.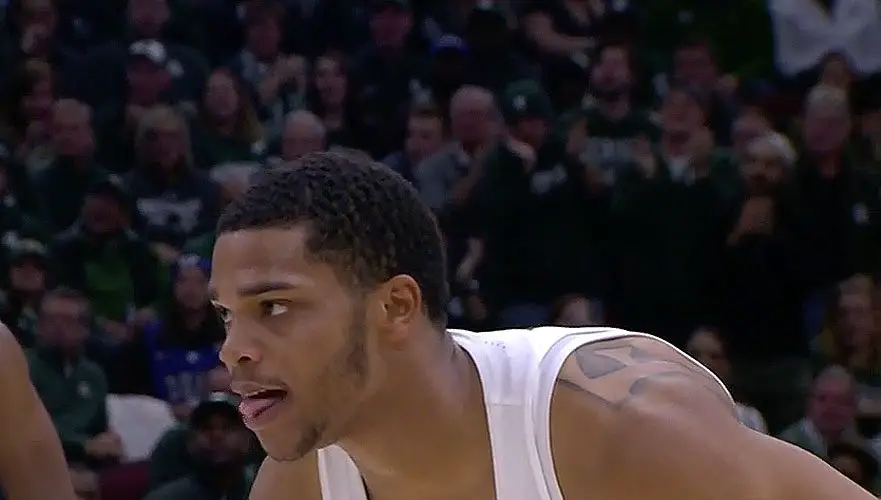 ---
Miles Bridges ending with 19 points, five rebounds, four assists and four blocks, while Jaren Jackson Jr. ending with 19 points, seven rebounds and three blocks.
Nick Ward had 19 points and five boards for the Spartans (1-1), who shot 50.8 percent in the defeat.
DUKE EARLY SETBACK
Duke played most of the game without highly taunted freshman forward Marvin Bagley III after he left midway through the first half with an eye injury.
---
Bagley III, who went into the game averaging 24.5 points and 10 rebounds in his first two collegiate games, was poked inadvertently by teammate Javin DeLaurier under the basket and went down holding his right eye.
Duke was leading the contest 19-12 at the time.
The star freshman forward received treatment down on the floor for several minutes before he was taken back to the locker room with Duke's training staff.
He returned to the bench for the second half but did not play.
While the rest of the Blue Devils players were taking shots and warming up for the second period, Bagley III was visibly having trouble opening his right eye.
Before he left the contest, the No. 1 freshman in the country played 10 minutes and had six rebounds, including five at the offensive end to go with four points, one block and a steal.
Duke coach Mike Krzyzewski, with the win, improved to 12-1 in his career against Michigan State as the Blue Devils have now four straight against the Spartans.
NO. 1 DUKE V NO. 2 MICHIGAN STATE
GAME STATS AND INFORMATION