Bagley III, No. 1 Duke Sees Off Indiana 91-81: Big Ten/ACC Challenge
BLOOMINGTON, Ind., Sporting Alert – Talented freshmen Marvin Bagley III and Wendell Carter Jr. both recorded double-doubles again and No. 1 Duke pulled away late to see off Indiana 91-81 in the Big Ten/ACC Challenge on Wednesday.
Bagley III finished with 23 points on 10 of 15 shooting, along with 10 rebounds to complete his seventh double-double in the first true road win of the season for the nation's top-ranked program.
"It was different," Bagley said of his first true road game. "But we locked in defensively and we went on runs and that's what put us over the top."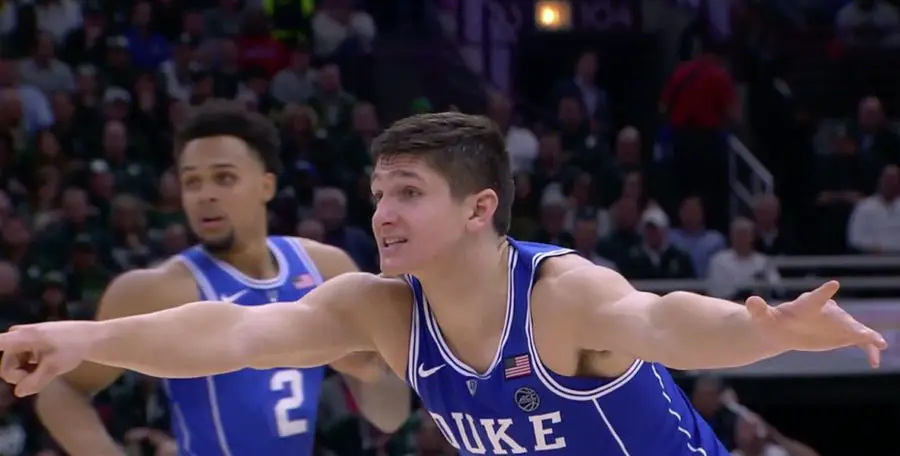 ---
Carter Jr. added 18 points, 12 rebounds and two blocks and shot 7 of 9 from the floor before fouling out of the game late in the second half for Duke (9-0).
Grayson Allen scored 18 of 21 points in the second half, as the Blue Devils used a late 17-4 spurt to eventually pull away from a provoking Indiana team that was a would not go away for almost 38 minutes.
Robert Johnson paced Indiana (4-3) with 17 points before picking up his fifth an final foul of the contest, while De'Ron Davis ended with 16 points on 6 of 7 shooting with five rebounds.
Duke got tested in Assembly Hall…@GraysonJAllen and @TheAndyKatz talk about playing in hostile territory and the excitment of heading home! pic.twitter.com/Rxml4H2WOC

— NCAA March Madness (@marchmadness) November 30, 2017
Juwan Morgan had 16 points, six rebounds, two steals and two blocks and Collin Hartman finished with 11 points for the Hoosiers, who had won three games entering this game.
Duke, which played nine games in 20 days and logged well over 8,000 miles during that period, looked fatigued.
"When you're tired, especially guys when they're tired, they don't talk," winning coach Mike Krzyzewski said.
"They talk to themselves and that's how we played most of the game. We wanted to win but we were in `This is what I have to do instead of what we have to do."
Both teams traded baskets throughout the entire first half, as Duke led 42-38 at the interval.
The Blue Devils went up by 10 points early in the second half, but Indiana rallied to take a 69-68 lead with eight minutes remaining.
However, after the game was tied 75-75 with 5:09 left, Duke pulled away late on a 16-6 run and held Indiana without a field goal during that period to secure another hard-fought victory.
"We're exhausted," Krzyzewski admitted. "They're dead right now, but they certainly played those 5 minutes at the end with an incredible will to win."
They won't show this on SportsCenter but… here is a look at Duke Basketball at its best. RT if you agree. FAV if you loved Win 9. ?? pic.twitter.com/uzzAQqIN1Y

— Duke Basketball (@DukeMBB) November 30, 2017
Meanwhile, Trevon Duval added 15 points and six assists in another vital contribution for Duke, but coach Krzyzewski took the time to lavish praises on sophomore Marques Bolden after the big man's key steal down the stretch.
The play, which resulted in a foul in favor of the Blue Devils, was described by the veteran coach as the "play of the game."
"Marques made the play of the game. He gave us incredible energy," said Coach K. "We beat tired tonight… It was a big win for us. Our 9th in 20 days."
As a team, Duke shot 55 percent, but was only 3 for 17 from 3-pointers.
Indiana, meanwhile, shot 51 percent overall, but was only 5 for 21 from 3s and went 16 of 26 from the free throw line.
Duke and Bagley III return home this weekend to hosts South Dakota on Saturday.
Indiana will begin Big Ten conference play Saturday at Michigan.