KINGSTON, Jamaica (Sporting Alert, Gibson McCook Relays Results) — World record holder Usain Bolt got his 2015 season underway on Saturday, but his Racers Lions Track Club 4x100m relay team was beaten at the 2015 Gibson McCook Relays at the National Stadium in Kingston.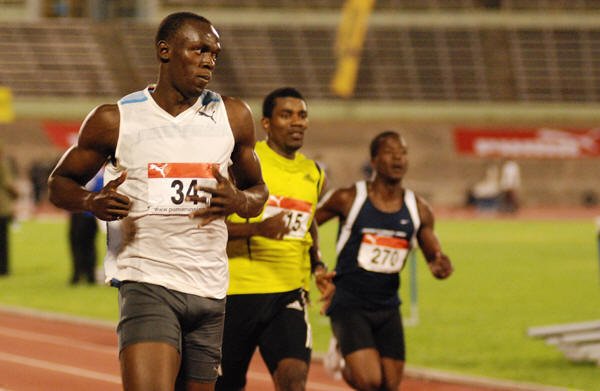 Bolt, who is preparing for what he expects to be another exciting season, anchored his club to a second place finish in the final of the sprint relay in a time of 38.29.
"It feels good to be back on the track, but disappointed we didn't win," the sprint superstar said.
Earlier in the morning session, the Olympic Games triple gold medallists ran the anchor leg on the Glen Mills coached Racers Lions quartet, which clocked 39.26 seconds to win heat four.
Mario Forsythe, Michael Frater and 200m specialist Warren Weir were the other members of the team in the preliminaries.
Commonwealth Games 100m champion Kemar Bailey-Cole replaced Frater for the final.
The University of Technology (UTech), which ran the fastest time in the preliminaries, were crowned champions in the decider after Julian Forte ran a blistering second leg to help his club to a winning time of 38.29.
Akan Track Club was third in 39.59.
Bolt, who put his foot on the pedals down the straightaway to test his fitness in the World Championships year in the heats, revealed earlier that he was determined to open his campaign at the annual relay festival.
"I told my coach I wanted to run," he said.
He also noted that his main aim is to stay fit and injury free for next year's Olympic Games.
"The main aim is to stay fit this year," Bolt said. "That's one of the keys. Try to get through to this season because the Olympics is a really important year."
Meanwhile, after dominating the heats, Calabar High School shattered the meeting record in the Class 1 (U20) boys' 4x100m.
The defending champions flashed across the finishing line in 39.32 seconds — improving the previous mark of 39.61seconds, which they set last year.
Breaking the 40-seconds barrier as well were St. Jago, who clocked 39.80secs for second place, with St. Elizabeth Technical taking third in 40.30secs.
Earlier in the morning session, Calabar dominated the qualifiers with a time of 40.09 seconds, which was a full second faster than the next quickest qualifiers.
The women's clubs and institutions 4x100m final went to University of Technology (UTech) and they raced home in a record-setting time of 43.13 to take the event over Racers Track Club, at 43.76, and Sprintec, at 44.24.
Event 11 Men 4×100 Meter Relay CLUBS & INSTITUTIONS
================================================================
Sponsor: Wata (Wisynco group)
CHAMPIONSHIP
MEET RECORD: R 38.08 2/27/2010 Racers Lion Track Club, Racer
K Anderson, Y BLAKE, M Anderson, U Bolt
Team Finals
================================================================
Finals
1 University of Technology 38.23
2 Racers Lions Track Club 38.29
3 Akan Track Club 39.59
4 Sprintec 40.03
5 High Performance Training Cent 40.41
6 G.C Foster College 40.48
7 Atlethico Union Track Club 42.41
8 Trelawny Striders 42.44