OKLAHOMA CITY, Sporting Alert — The Boston Celtics rallied in the second half under the guidance of Kyrie Irving and Al Horford to secure a confident boosting 101-94 win over the Oklahoma City Thunder here at Chesapeake Energy Arena on Friday night.
After struggling to knock down shots in the first half where he went 1 of 9 from the floor for three points, Irving got it together in the second half to finish with 25 points as the Celtics rally from 18 down to win their seventh straight game.
"It was ugly," Irving admitted. "It was an ugly first half. We don't want to get in the habit of that, getting down by 18, understanding that against a good team like that, it could turn into 30 in a matter of an instant."
The All-Star point guard, who scored 22 points in the second half, including 13 in just the fourth quarter, also dished out six assists and had five rebounds in the win.
Friday night's victory saw Boston (7-2) becoming the first team in NBA history to win seven straight games after starting 0-2.
"We battled," Irving said. "We took away some things they were feeling comfortable within the first half, picked up our pace and our defensive pressure and things started going our way, and then we just kept battling to the end."
Star forward Horford scored 17 of his 20 points in the second half and made all four of his 3-pointers, while Jayson Tatum scored all 13 of his points in the first half for the visitors.
Jaylen Brown added 10 points and 12 rebounds for the Celtics, who shot 54.8 percent after halftime.
---
Paul George finished with 25 points and 10 rebounds for Oklahoma City, with Russell Westbrook adding 19 points, 11 assists and five rebounds.
However, Westbrook also turned the ball over six times in the defeat.
Jerami Grant went 5 of 7 from the floor for 11 points off the bench and Carmelo Anthony had 10 points and 14 rebounds for the Thunder (4-4), but shot just 3 of 17.
Steven Adams grab 10 rebounds and seven points in the defeat for the home side which had its two-game winning streak snapped.
---
The Thunder, who never trailed in the first half, twice led by as many as 18 points in the second quarter and went into the break leading 55-37.
However, Irving and Boston chipped away at Oklahoma City's lead throughout the third quarter before trimming the deficit to a point, at 68-67 with less than a minute left in the third.
"The first half, we played extremely well defensively," Anthony said. "The Celtics kept fighting. They stuck with it. I think we took our foot off the gas a little bit.
"We didn't put a full game together tonight. It showed that it was just a tale of two halves. One great half and one not-so-great half."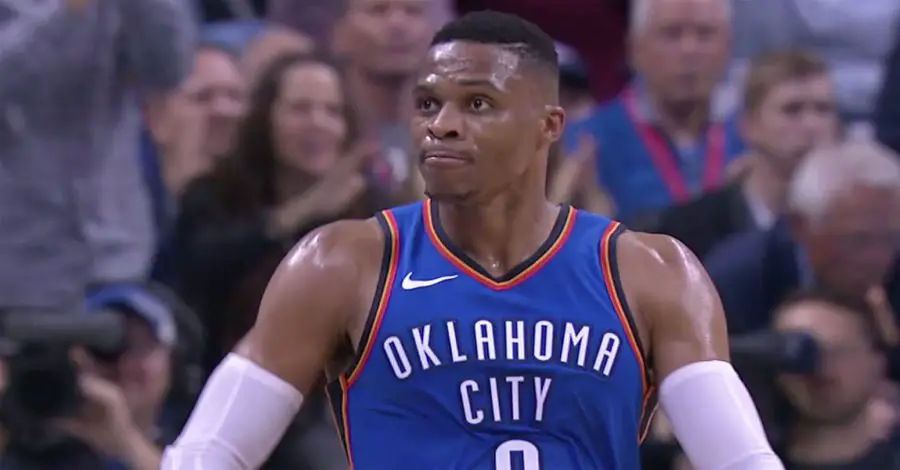 ---
Boston locked the scores at 79-79 with 5:56 remaining with a 3-pointer by Semi Ojeleye and then grabbed an 82-79 lead with a 3-pointer by Horford.
The Celtics went on to increase their lead to seven points and then held it together down the stretch to create an NBA story.