EUGENE, Ore. Jun 25, Sporting Alert — Trayvon Bromell flashed to a collegiate record of 9.84 seconds when winning his 100m heat at the USATF Outdoor Championships here in Eugene, Thursday evening.
The Baylor University sophomore and World Junior record holder, also improved his own personal best with Thursday's performance, while clocking the second fastest time on the day.
Remontay McClain posted the fastest time of the day at 9.82 seconds, but achieved his mark in a heavy +4.9 m/s traveling wind when beating Tyson Gay (9.85) in the third heat.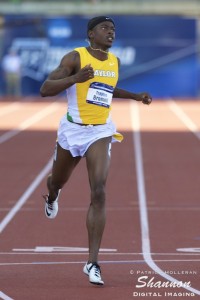 Bromell's time was done in a legal +1.3 m/s wind.
It was a sad evening for sprinter Ryan Bailey though after he false-started in his heat and failed to make it past the first round.
The wind affected most of the times on the day, as Carmelita Jeter and Jasmine Todd of Oregon both ran 10.87 with the assistance of a powerful +4.5 tailwind.
Tianna Bartoletta, Jenna Prandini, English Gardner, Jeneba Tarmoh, Tori Bowie and Dezerea Bryant all booked places in the semis.
LaShawn Merritt was the quickest around the track in the heats of the men's 400m dash at the USATF Outdoor Championships here in Eugene, Thursday evening.
Fans Can Watch Online Streaming Coverage on usatf.tv
Merritt, who won the world title at the 2013 championships in Moscow, Russia, and doesn't need to qualify, opted to carry over his midweek training session to Hayward Field to test his fitness against a quality field in the heats.
In the end, the 28-year-old finished first in 44.95 seconds and was the only runner this evening to break the 45-seconds barrier.
Bryshon Nellum and Michael Berry also looked good when they finished behind Merritt in 45.12 and 45.13, respectively.
Other heat winners on the day were David Verburg, who posted 45.20 to take the first race, while Marcus Chambers of Oregon finished super fast to land the third heat in 45.27.
NCAA champion Vernon Norwood from LSU was the winner of the fourth heat in 45.49, with the fifth and final heat going to James Harris, at 45.64.
Former World and Olympic gold medal winner Jeremy Wariner was third in heat five in 45.74 and he also booked a place in the semi-finals.
In the women's race, world-leader Francena McCorory and Quanera Hayes both looked pretty good in their respective heats.
McCorory pulled no punches when winning her race in a quick 51.25secs, with Hayes taking her heat in 51.31.
Allyson Felix, who has a wild card in the 200m, continued her endurance work with an impressive 51.40 on her way to finishing first in heat one.
Elsewhere in the women's 400m, Sanya Richards-Ross made easy work of her heat when winning in 51.93, while Natasha Hastings raced home behind Hayes in heat two in a quality time of 51.44.
In the women's 800m, Ajee' Wilson was a very relaxed 2:01.96 heat winner and she was the fastest of the heats on the day.
Joining her in the semi-finals are the likes of Alysia Montano (2:02.00) and Brenda Martinez (2:02.33).
In the men's 400m hurdles, NCAA champion Michael Stigler won his heat in a wind-affected 49.66, with Jeshua Anderson (49.80), Quincy Downing (49.95), Bershawn Jackson (49.96) and Johnny Dutch (50.43) going through as well.