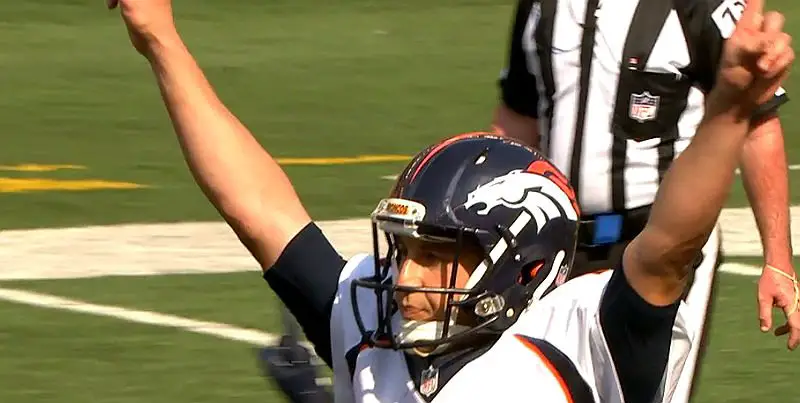 Broncos Beat Texans 27-9; Osweiler booed
DENVER, Sporting Alert – Brock Osweiler had a disastrous return to Denver in Monday Night Football.
The former Broncos quarterback was greeted with boos from the home fans, harassed and hit during the Houston Texans' 27-9 defeat at Sports Authority Field at Mile High.
Osweiler, who went 22 of 41 on completed passes for 131 yards without a touchdown, had three fumbles, including one for a lost, and was booed by Denver fans when he jogged onto the field for the first drive of the game.
The 25-year-old was seen as the ideal replacement for the retiring Peyton Manning with the Broncos, but opted to sign a $72 million, four-year deal with Houston, because he felt he had a better chance of succeeding with the Texans.
But not everyone agreed with his decision.
"It's not all about money in life," Broncos cornerback Chris Harris Jr. said. "He had a great situation, great team here, better receivers to me.
"So, I think he already knows he made the wrong choice."
In the meantime, Trevor Siemian, who latched on to the starting position after Osweiler left, was 14 of 25 for 157 yards and threw a four-yard touchdown pass to Demaryius Thomas, which helped the Broncos take a 14-6 lead with 4:04 left in the second quarter.
C.J. Anderson had 107 yards on 16 carries with one touchdown, while Devontae Booker carried the ball 17 times for 83 yards and a score in the win for Denver (5-2).
Emmanuel Sanders had four catches for 86 yards.
In the defeat, Alfred Blue had 11 carries for 63 yards and Lamar Miller rushed 11 times for 61 yards for the Texans (4-3), who dropped two of the last three games.
Monday night's game saw the Denver Broncos head coach Gary Kubiak making a return to the sideline after a health scare, and he was happy with what he saw.
Kubiak also had some nice thing to say about Osweiler, adding that he had no problems with the QB's decision to leave.
"He's a great kid," he said. "I talked to him after the game … This team thinks the world of him, these guys were in the same locker room with him for a long time.
"We won a championship with him, (leaving) is part of football."