CHICAGO (Sporting Alert) — Derrick Rose and the Bulls take on LeBron James and the Cavaliers live on ESPN on Friday night.
Chicago and Cleveland were locked at 1-1 in the series after two games in Ohio, and both played confidently in looking to take the lead in the seven-game battle. Game time is at 7 p.m. CT and the WatchESPN application will also provide live broadcast, along with live GameCast, Box Score and our on page updates. Complete Play-by-Play
—————————————————–LIVE UPDATES———————————————-
LeBron James has missed 11 straight 3-pt FG attempts

— ESPN Stats & Info (@ESPNStatsInfo) May 9, 2015
LeBron James missed his first 3-point attempt of the night and had missed 11 straight from downtown dating to Game 4 against the Celtic before getting a triple through the net. James is 1-for-5 from the field overall tonight. Watch live on ESPN/WatchESPN
With 4 ast tonight, @KingJames has passed Tony Parker Steve Nash & Larry Bird and is now 4th all-time in NBA playoff history with 1,063 ast.

— Cleveland Cavaliers (@cavs) May 9, 2015
LeBron with a slick assist to Mozgov for the layup on @espn #NBARapidReplay http://t.co/ERQLmB3VfT

— NBA (@NBA) May 9, 2015
📺: @ESPNNBA 📻: @ESPN1000 💻: http://t.co/iadDl1Sx34 #CAVSvsBULLS #SeeRed pic.twitter.com/RYm6wb0atw

— Chicago Bulls (@chicagobulls) May 9, 2015
GAME TIME!!! ….as these guys look to claim a 2-1 series lead in Chicago… Game 3 straight ahead.. #CavsRadio pic.twitter.com/CFfJEAgJmN

— John Michael (@CavsJMike) May 9, 2015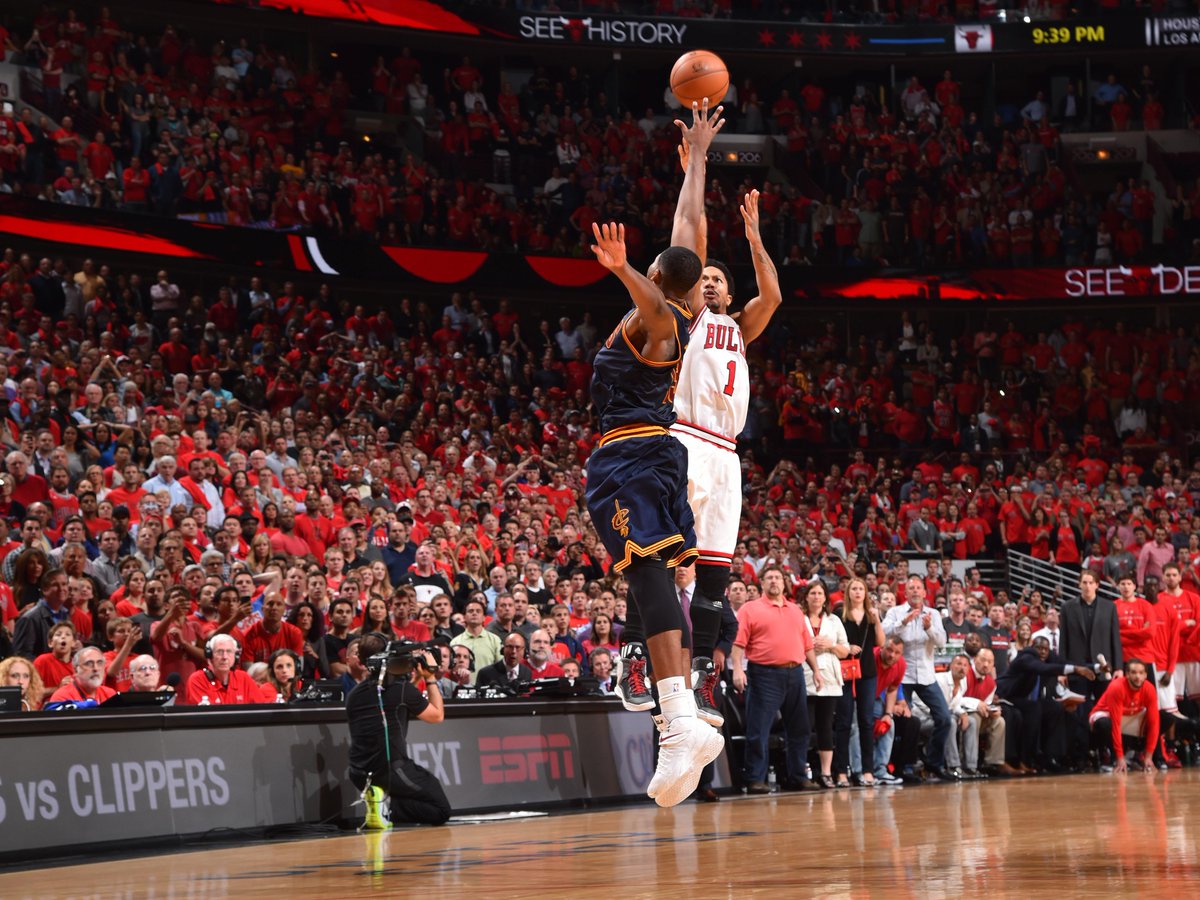 Rose enters tonight's showdown with the Cavs with some interesting stats.
According to ESPN Stats, the Bulls starting point guard is averaging 14.0 points per game on a single day rest between games — compare to his 24.3 points per game with multi days of resting.
Rose is shooting 30-percent from the field on one day of rest, far away from his 48.0-percent with more days to recover. He is also shooting 27-percent from three-point range on limited resting. He shoots 48.0-percent on longer time to prepare for the next battle.
Rose will now be looking to break his trend of low stats on a single day of rest when he leads the hosts into the United Center for Game 3 with the Cavs.
KING JAMES WILL FEEL AT HOME
Cleveland's James, who scored 33 points in a dominant outing in Game 2 on Wednesday night, is averaging 28.6 ppg, 9.1 rpg, and 7.3 apg in 7 career playoff games at Chicago and he will try for his sixth postseason victory inside the arena.
ESPN Stats, reports that the four-time MVP comes into Friday's game ranked No. 6 in postseason history with 1,059 assists and needs just three more helpers to move pass Steve Nash and four to overtake Larry Bird on the all-time list.
It will be tough to bet against James not reaching either of those milestones, as he is averaging 6.7 assists per game in the playoffs this season from six games.