LONDON (Sporting Alert) — The boxing fraternity is eagerly awaiting the start of this fight, and to be honest, so are the fighters.
CARL FROCH v GEORGE GROVES – Ringwalk 9:45pm (4:45 EST), fighters due in the ring at 10pm (5:00 EST)
IBF & WBA super-middleweight titles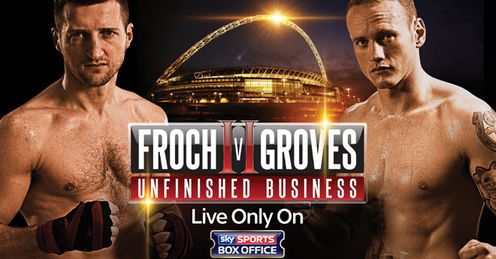 At London on HBO: Carl Froch vs. George Groves, rematch, 12 rounds, for Froch's IBF/WBA super middleweight title; James DeGale vs. Brandon Gonzales, 12 rounds, IBF super middleweight eliminator; Jamie McDonnell vs. Tabtimdaeng Na Rachawat, 12 rounds, for vacant WBA "regular" bantamweight title; Kevin Mitchell vs. Ghislain Maduma, 12 rounds, IBF lightweight eliminator; Anthony Joshua vs. Matt Legg, 8 rounds, heavyweights
A confident George Groves said: "I would beat Carl Froch every night of the week. We're ready, we can go all night long. 
"This fight is going to get worse for Carl after every round. I'm in perfect condition. The belts should be mind. Carl's had them on loan for six months."
"I've done the weight comfortably. I feel perfect, mind, body and soul. I couldn't be more ready," he added.
Carl Froch said: "I can't see Groves going the distance with me. He's not fit enough and tough enough. He hit me with a great shot in round one last time. That was me at my worst; Groves fought out of his skin. Now I'm at my best.
"The weight is never a problem but the preparation has been better. This weigh in is bigger than most fights but what matters is what happens in that ring. I'm focused; tunnel vision. You're going to see me at my best."
Carl Froch and George Groves will fight in the super middleweight category, and both use an orthodox stance.
On Saturday the arch rivals, who first fought in November 2013, will have their rematch at Wembley Stadium, with the former's IBF and WBA super middleweight titles, again on the line.
Live streaming coverage will be on Sky Sports Box Office and BBC Radio 5 live.
During the first fight, Groves was ahead on the judges' scorecards, but Froch stopped him during the ninth round, with the fight ending under controversial circumstances. Froch says he has listen to all the talks in the last six-months and now he wants to prove his supposedly victory over Groves was earned fairly.
Groves believes he was robbed and he seeks revenge after the controversial defeat.
Following the reading of the scores, there were immediate calls for a rematch, one in which both fighters agreed to.
There have been lots of talking in the build up to game, and Froch trainer Robert McCracken believes his fighter is physically and mentally ready for his rematch.
"This time he's been great, he's given it 100 per cent. He's totally motivated for the fight and everything has gone into it over the last three or four months," McCracken was quoted as saying on SkySports.
"Preparation wise, he's trained hard, he's sparred well and he's just easing off now so he's exactly where he should be.
"Groves is a good fighter, it's going to be a great fight on Saturday night, but Froch is the champion.
Froch, who has been beaten only twice in 34 fights, is originally from Nottingham, England, the United Kingdom.
He began boxing at the age of nine and won various middleweight titles as an amateur before becoming a pro.
He had his first pro fight in March 2002. His trainer is Robert McCracken and his manager is Eddie Hearn.
George Groves, who has only one defeat in 20 fights, is originally from London, England, the United Kingdom. He won 66 out of 76 fights as an amateur, fighting all over the world as an amateur before going pro in November 2008.