Champions League Football TV Channels: April 21
UPDATED Scores
At halftime, Bayern Munich have already overturned their two-goal deficit and are leading FC Porto 5-0 at the end of the first half. Looking in cruise control.
A brace from Robert Lewandowski and a goal each from Jerome Boateng, Thiago and Thomas Muller have put Pep Guardiola's side in relax mode. Bayern Munich, who trailed 3-1, now lead the two way tie 6-3 and heading to 21 straight at home.
Meanwhile, at the Camp Nou, a brace from Neymar in the first half, have given the Spanish leaders a commanding lead in their quarter-finals second leg, as Barcelona now head up the tie 5-1.
(Sporting Alert) -- The following are the UEFA Champions League quarter-finals second leg clashes, team news and TV channels on Tuesday, April, 21.
Work To Be Done
Paris Saint-Germain and Bayern Munich will look to recover from two-goal deficits after losing their respective first leg games.
PSG were beaten 3-1 in their first quarter-finals by Barcelona, with striker Luis Suarez hitting the headlines with his two-goal performance.
The second leg clash, however, will see forward Zlatan Ibrahimovic returning to the lineup for PSG after the Swede missed the first leg because of a suspension.
Marco Verratti is also available after his ban.
"Ibrahimović is back, but that doesn't change matters because PSG will play in the same style," Barcelona manager Luis Enrique said at his press conference.
"Ibra and Verratti are very important players for them, so their quality will, of course, increase."
He added:"Ibrahimovic is capable of having a shot on goal at any time – he's one of the best strikers in the world. We know him very well and he represents an extra source of motivation for us.
"We might change our plan a bit, but not because of Ibra or Verratti. We sometimes change it to create more problems for the opposition, not because of individual players."
Live TV Channels and Streams: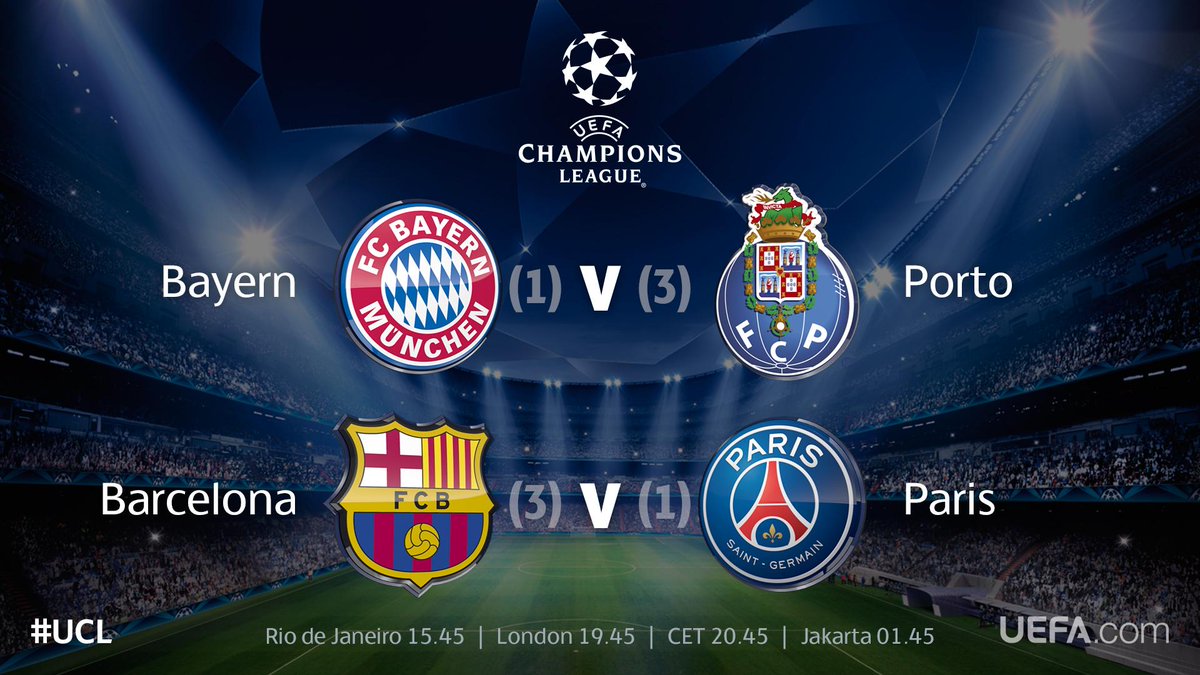 Barcelona v PSG: UEFA.com WatchESPN, Fox Sports 1 USA, Fox Soccer 2Go, Fox Sports GO, Sportsnet World Now, Sportsnet East, Sportsnet Ontario, Sportsnet Pacific, UTV, ITV 1 UK, STV Scotland.
Bayern Munich v FC Porto: UEFA.com, Fox Sports 2 USA, Fox Sports GO, Fox Soccer 2Go, Sportsnet World, BBC Radio 5 Live, Sky Sports 1/HD,  Sky Sports 5/HD.
Having take care of business in the first leg, Barcelona only need to avoid defeat to go through to the semi-finals, but Enrique will be going out for a win.
"I only think in terms of winning. I understand a victory is much better than a draw," the Barca coach said.
"We will have to work hard at times Tuesday, like we did in Paris, and at other moments we will feel stronger.
"I don't want to settle for a draw because I only think about winning."
PSG, even with the return of game changer Ibrahimovic, know that the odds are against them heading into this game, but head coach Laurent Blanc remains optimistic.
"We all know the task is extremely difficult," Blanc admitted. "Our problem is that we have to score goals, though I do believe we will have plenty of chances.
"We have a small chance of winning but it's practically impossible not to concede against Barcelona."
He continued: "...I am convinced we will have chances to score and we will be more efficient than in Paris."
Leading center-back Thiago Silva, who was forced to leave the game early in the first leg, will not feature for Paris Saint-Germain because of thigh injury.
Lionel Messi failed to score in the first leg, but the Argentina can move to the top of the Champions League all-time scoring chart with a goal Tuesday night.
The Barcelona legend is leveled with Real Madrid striker Cristiano Ronaldo with 75 goals in the tournament.
The Impossible Job?
In the days other game, Bayern Munich will have their hands full when they battle against FC Porto at home.
FC Porto stunned the Germans 3-1 in the first leg, but the Bundesliga leaders are confident of pulling those goals back in front of their home supporters.
The odds are indeed stacked against the mighty Germans, but head coach Pep Guardiola is backing his side to deliver a master-class performance and overturn the deficit.
"The game is a big challenge, but when you're coach of a club like Bayern every day is a challenge," Guardiola said at his press conference.
"During the last few weeks, which have not been easy for us, I have learned a lot about my work."
He added: "On Tuesday we have to take more risks. That is normal after the game in Porto.
"I am optimistic and realistic. After a 3-1 loss in Porto, it will not be easy at all, but I am optimistic we will go through to the semi-finals."
Despite their problems, Bayern Munich are being backed by several leading pundits to win this second leg 3-0.
Si quieres conocer otros artículos parecidos a Champions League Football TV Channels: April 21 puedes visitar la categoría Champions League.