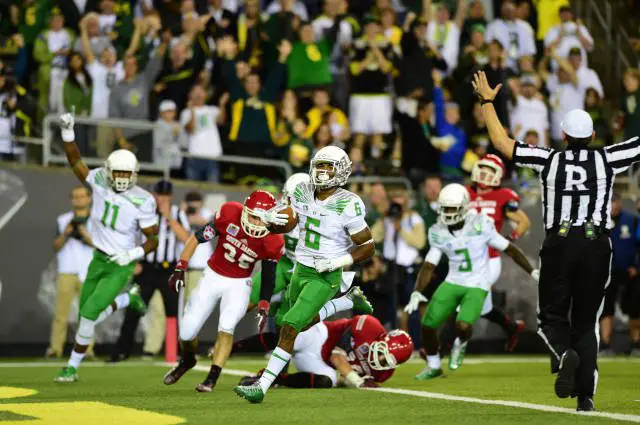 College Football Playoff: Oregon v Florida State Rose Bowl TV Channels
PASADENA, Calif. (Sporting Alert) — The inaugural NCAA college football playoff gets underway on New Year's Day, as the nation's top four ranked teams seek a place in the championship game.
No. 2 Oregon vs. No. 3 Florida State
ROSE BOWL GAME PRES. BY NORTHWESTERN MUTUAL – SEMIFINAL
LIVE TV CHANNELS: ESPN and WatchESPN @ 5:00 PM ET
No. 1 Alabama, defending national champion Florida State, the red-hot Oregon and a very talented Ohio State, are the four teams, who have been picked by the college football playoff selection committee to feature in the highlighted fixtures on New Year's Day.
The selected coverage from the Rose Bowl stadium in Pasadena, Calif., starts at 5:00 PM ET with the 2014 Rose Bowl match up between No. 2 Oregon and No. 3 Florida State, who will be meeting for the first time.
This clash will also feature the last two Heisman Trophy winners in the Ducks' Marcus Mariota (2014) and FSU's winner from last year, Jameis Winston.
Mariota and Oregon (12-1) and have been destroying their opponents this season and have won the last eight games by an average of 26 points.
The Ducks, which have 21 bowl appearances in last 25 years, have been scoring freely this season and head into this contest against the reigning champs scoring an average of 46.3 points per game and giving up 22.5.
Star quarterback Mariota, who has already set three Pac-12 records this term and a number of personal bests, comes into the game completing 254 of his 372 passing attempts for 3783 yards and has thrown 38 touchdowns.
The junior has also rushed for 14 scores and another on receiving for a season tally of 53 TDs, which erased the Pac-12 record of 41 set by USC's Matt Barkley in 2011.
"I think he's very smart with the football. I think he knows where he's going with the ball," Florida State defensive coordinator Charles Kelly was quoted as saying. "He has great vision. I think he sees the field.
"He does a good job of buying time in the pocket and that doesn't mean just scrambling. It just means buying time where he can see downfield, where a guy gets open. He's a very intelligent football player."
Meanwhile, the Seminoles (13-0) have not been consistently playing at their best this season, but continuously found ways to keep winning ball games and remained the only undefeated team in the postseason.
An unpredicted Winston hasn't been as stable as he was last season, which is a major concern for even the most loyal of Florida State fans.
Still, FSU's head coach Jimbo Fisher is confident his star quarterback, who has been battling with personal problems off the football field, will peak at the right time.
Winston's numbers, as expected, have dropped since his title winning displays last year when he finished with 40 touchdowns.
His figures are still quite impressive this season, though, as he enters the Rose Bowl with a 65.4 percent passing completion and has thrown for 3559 yards and 24 touchdowns.
But after barely able to pull out wins against North Carolina State, Louisville, Clemson, Notre Dame, Miami, Boston College, Florida and Georgia Tech, many believe Florida State will struggle against Oregon, who seems to be playing its best football at the moment.
Fisher and his staff have been busy studying films and are ready to take advantage of the Ducks' inconsistency at protecting Mariota, who has been sacked 29 times already.
But if the Noles' defense is unable to get to Mariota on time, look for Oregon to run up the scoreboard and put early pressure on the defending champions.
The outcome of this game will probably be decided by which Heisman Trophy winner plays the best.
The winner of this contest will meet the victors of the other semifinal that involves No. 1 Alabama and No. 4 Ohio State, in the inaugural College Football Playoff National Championship on Monday, Jan. 12, in Arlington, Texas.
Three other top class games will get underway before this clash though.
At 12:00 PM ET, No. 19 Auburn and No. 18 Wisconsin will do battle for the Outback Bowl, No. 5 Baylor and No. 8 Michigan State go off at 12:30 PM in the Goodyear Cotton Bowl Classic, while No. 16 Missouri take on No. 25 Minnesota in the Buffalo Wild Wings Citrus Bowl at 1:00 PM.
NCAA College Football Playoff – New Year's Day
Thursday, January 1
TIME (ET)

No. 19 Auburn vs. No. 18 Wisconsin
OUTBACK BOWL ESPN2 – 12:00 PM
No. 8 Michigan State vs. No. 5 Baylor
GOODYEAR COTTON BOWL CLASSIC ESPN – 12:30 PM
No. 16 Missouri vs. No. 25 Minnesota
BUFFALO WILD WINGS CITRUS BOWL ABC – 1:00 PM
No. 2 Oregon vs. No. 3 Florida State
ROSE BOWL – SEMIFINAL ESPN – 5:00 PM
No. 1 Alabama vs. No. 4 Ohio State
ALLSTATE SUGAR BOWL – SEMIFINAL ESPN – 8:30 PM