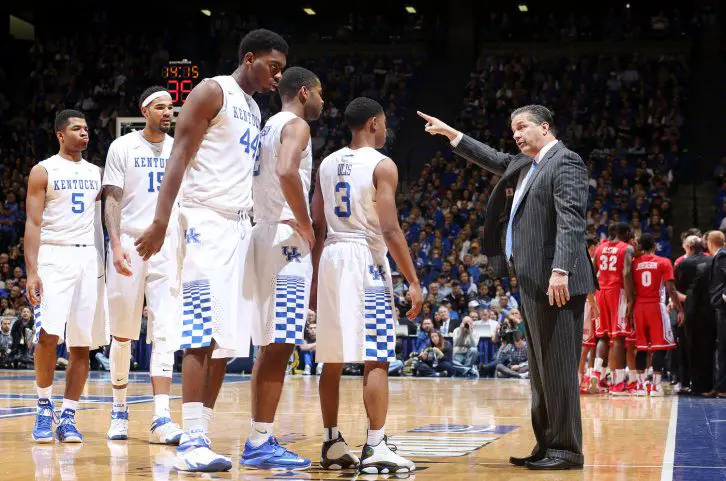 College Men's Basketball Top 25 Scores on Mar. 7
NEW YORK (Sporting Alert) — Scores and results from the NCAA top 25 games that tool place on Saturday, March 7.
Top-ranked Kentucky defeated Florida 67-50 to complete an undefeated regular season campaign on Saturday night.
Freshman forward Trey Lyles scored 14 points and six rebounds and Karl-Anthony Towns added 13 points, nine rebounds, six blocks and three assists to lead the way for the Wildcats (31-0, 18-0 SEC), who shot 47.2 percent from the field.
There have been a lot of hype surrounding Kentucky's first-ever 31-0 regular season campaign, but the players, although delighted with the impressive achievement, are more focused on winning the national title.
"We take pride but our journey is not done," said Lyles. "We have a lot of work to do and we only have two guaranteed games left in our season, so we have to make sure we go out there and play hard and together.
"It just shows how great these guys are on the team, how much we care for one another and how much we want to win."
Towns added: "For us, the perfect season doesn't matter to us. A national championship is what matters to us. That's what our goal is."
Head coach John Calipari also praised his players for managing to stay focus.
"I'm so proud and I respect them so much to be able to deal with this," Calipari said. "I mean, not only every game is an event, every game they played this year is an event, every game is somebody's Super Bowl.
"Every game the coach would walk off the court and say that was the best we played all year. They took on the challenges."
Kasey Hill scored 15 points and Dorian Finney-Smith finished with 12 for the Gators (15-16, 8-10 SEC), who had its two game winning streak snapped.
"I felt like, for 30 minutes we played really good basketball," Florida coach Billy Donovan said. "… Then, at the 10-minute point, their offensive rebounding started to affect us some."
At Chapel Hill, in North Carolina, Tyus Jones scored 17 of his season-best 24 points in the second half and No. 3 Duke topped No. 19 Tar Heels 84-77 to complete the season sweep.
The Freshman guard also dished out seven assists, six rebounds and three steals in the win.
Quinn Cook added 20 points, Jahlil Okafor chipped in with 14 and Justise Winslow ended with 13 points before fouling out of the game for the Blue Devils (28-3, 15-3 ACC), who secured its 11th straight win.
Marcus Paige, who came into Saturday night's contest scoring less than 10 points per game in the last five outings, matched his season-best with 23 points and knocked down 5 of his 9 three-point attempts to lead the way for North Carolina (21-10, 11-7 ACC).
Brice Johnson added 17 points, Justin Jackson supported with 14 off the bench and J.P. Tokoto finished with 10 points, six rebounds, five assists, two steals and two block shots for the Tar Heels, who were beaten 92-90 in overtime in the first meeting at Cameron Indoor Stadium on Feb 18.
Meanwhile, No. 2 Virginia suffered its second defeat of the season after going down 59-57 against No. 16 Louisville at KFC Yum! Center.
Junior forward Montrezl Harrell grabbed his 13th double-double of the season after finishing with 20 points and 12 rebounds for the Cardinals (24-7, 12-6 ACC).
Terry Rozier and Quentin Snider each finished with 11 points for Louisville, which shot 46.9 percent from the field.
Malcolm Brogdon had 17 points and six rebounds and Darion Atkins added 10 points and seven boards for the Cavaliers (28-2, 16-2 ACC), who had a nine-game winning streak snapped.
In more results on Saturday, No. 9 Kansas fell 75-73 to No. 15 Oklahoma, while No. 8 Wichita State was upset 65-62 by Illinois State.
Fourth-ranked Villanova crushed St. John's 105-68, while there were wins for No. 5 Arizona, No. 7 Gonzaga and No. 11 Northern Iowa.
Top 25 NCAA Men's Basketball Games Scores
(1) Kentucky 67, Florida 50
(16) Louisville 59, (2) Virginia 57
(3) Duke 84, (19) North Carolina 77
(4) Villanova 105, St. John's 68
(5) Arizona 91, Stanford 69
(7) Gonzaga 81, San Francisco 72
Illinois St 65, (8) Wichita St 62
(15) Oklahoma 75, (9) Kansas 73
(11) Northern Iowa 63, Loyola (Chi) 49
(12) Notre Dame 81, Clemson 67
Washington 77, (13) Utah 68
(17) Iowa State 89, TCU 76
LSU 81, (18) Arkansas 78
(20) West Virginia 81, Oklahoma St 72
(21) Butler 68, (24) Providence 64
Belmont 88, (25) Murray St 87