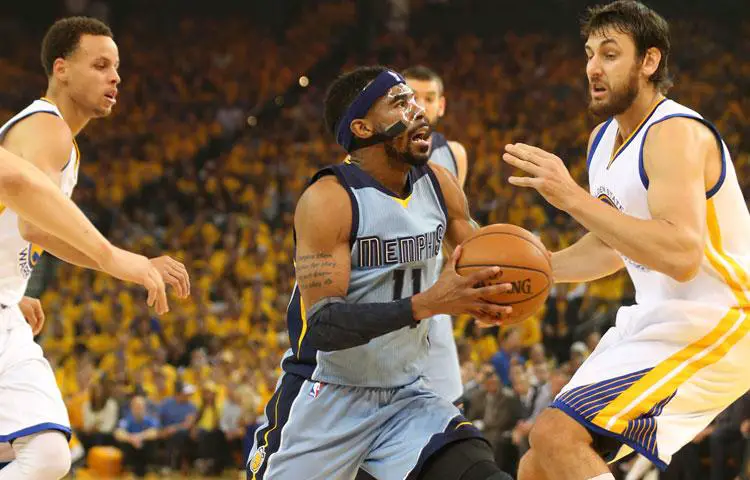 Conley hits winning jumper, Grizzlies stun Warriors in OT
OAKLAND, Calif. — Mike Conley made a jumper with 55 seconds left in overtime to lead the Memphis Grizzlies to a stunning 128-119 win over the Golden State Warriors on Friday night.
The Warriors, who led by as many as 24 points in the third quarter, got 40 points from Stephen Curry, but couldn't close out the game after a destructive fourth quarter in which they were outscored 32-13 by Memphis.
Zach Randolph collected a double-double with 27 points and 11 rebounds, to go with six assists and Conley, who tied the game with 7.4 seconds left in regulation, added a double-double with 27 points and 12 assists for the Grizzlies (23-16), who trailed 67-55 at halftime.
Marc Gasol scored 23 points in the win for the travellers, who shot 49 percent.
The teams finished regulation tied at 111-111 but Memphis outscored the home side 17-8 in overtime to seal the win.
"I love that it was a great team that we beat, but I want more consistency," Grizzlies coach David Fizdale said.
"Right now we play like spoilers. We haven't proven that as a contender we can do it night in and night out."
Kevin Durant supported Curry with 27 points and 13 rebounds and Klay Thompson finished with 17 points for the Warriors (31-6), who had a four-game winning streak snapped.
As good as the Warriors are, Curry admits that these things happen every once in a while, adding that it's just a regular season bump.
"There's no panic at all. You go through these hiccups, these road bumps and it pokes air out of the balloon a little bit, but that's what the regular season's for," he said.
"Last year, I don't think we had many opportunities to kind of self-assess and look ourselves in the mirror and see where we were at, just riding that wave."
Golden State's Draymond Green, who had 11 points and eight rebounds before fouling out said: "We got some things to correct to be a championship team, and right now we're not."
He added: "Our fourth-quarter offense has been atrocious."
"I'm actually happy we lost today because there are some things that we need to correct in order to win a championship. That's our goal.
"Our fourth-quarter offense has been atrocious."