KINGSTON, Jamaica, Sporting Alert — Olympic sprint double champion Elaine Thompson headlines a world-class list of athletes set to compete at the 2017 Jamaica International Invitational – the opening IAAF World Challenge meeting of the season – at the National Stadium on Saturday (20).
Watch Live Streaming on 1Spotmedia.com. Visit the Jamaica International Invitational website for more details.
Thompson v Jackson Could Be Very Fast
---
Thompson, who won gold medals in the women's 100m and 200m events at the Rio Olympic Games in Brazil last summer, has been in immaculate form thus far on the season and she will look to extend her run when she contests the women's 200m.
The MVP sprinter has already posted respective times of 22.19 (200m) and 10.78 (100m) in the opening legs of the 2017 IAAF Diamond League series in Doha and Shanghai.
The 24-year-old will start as the favourite to run away with another victory in front of the home supporters this weekend.
One of the main challengers for Thompson at this year's Jamaica International Invitational is her club teammate Shericka Jackson, the World and Olympic 400m bronze medallist.
Jackson has also competed strongly over the shorter sprints this season — producing personal bests in both the 100m (11.24) and 200m (22.57).
Also lining up in the event are Jamaicans Simone Facey and Jura Levy, as well as Americans Shalonda Solomon and Candyce McGrone in addition to Tynia Gaither from the Bahamas.
De Grasse v Merritt Over 200m
---
In the men's event, Canadian sprint star and triple Olympic medallist, Andre De Grasse, will lead a solid lineup when he races for the first time in Jamaica.
De Grasse, who has featured in two open 100m already this term, will make his season debut in the flat 200m.
His main challenge should come from American former world and Olympic 400m champion LaShawn Merritt, who will be racing in his third 200m this campaign.
London Olympics bronze medallist and 2013 IAAF World championships silver medal winner Warren Weir of Jamaica, as well as fellow countrymen Nickel Ashmeade, a semi-finalist at Rio 2016 and reigning Commonwealth Games champion Rasheed Dwyer, will lead the Jamaican charges.
Great Britain's Zharnel Hughes, who finished fifth at the World Championships in 2015, is also in the field and will make his first appearance in the 200m in 2017.
Solid Men's and Women's 100m Fields
---
The men's and women's 100m events have also setup some tasty clashes.
In the women's race, American sprinter Allyson Felix will take on a solid field, which will include Jamaicans Christania Williams, a finallist in Rio, and Gayon Evans, the IAAF Indoor tour 60m champion.
Rio 100m and 200m finalist Michelle-Lee Ahye of Trinidad and Tobago and Americans Jenna Prandini and Morolake Akinosun are also entered in the event.
On the men's side, former world 100m record holder Asafa Powell will aim to add to his sub-10 seconds 100m collection when he makes his third appearance in the event this season.
The 34-year-old should be tested by countryman Yohan Blake, the 2011 world champion, Commonwealth Games champion Kemar-Bailey Cole of Jamaica and American Mike Rodgers.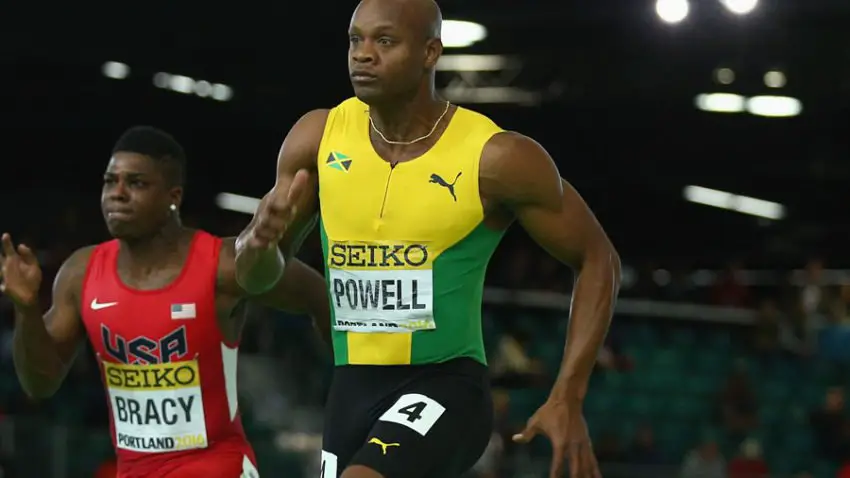 ---
Ronnie Baker of USA, Jamaican-born Turkish sprinter Jak Ali Harvey, as well as Jamaicans Nesta Carter and Julian Forte will also compete.
Also on the track, Jamaicans Javon Francis, Demish Gaye and Fitzroy Dunkley will battle against USA's Tony McQuay and Belgium's Kevin Borlee in the men's 400m.
The women's category sees Americans Natasha Hastings, Phyllis Francis, Ashley Spencer and Courtney Okolo going head-to-head with Jamaicans Stephenie-Ann McPherson, Novelene Williams-Mills, Christine Day and Anneisha McLaughlin-Whilby.
Harrison Pulls Out of Sprint Hurdles
Meanwhile, women's 100m hurdles world record holder Kendra Harrison of the U.S. will not compete in Kingston, after fracturing her hand at the Doha Diamond League meeting earlier this month.
However, Harrison's compatriots Nia Ali and Kristi Castlin, the Olympic silver and bronze medallists, are both good to go and the pair will join fellow Americans Sharika Nelvis and meet record-holder Jasmine Stowers at the starting line.
Leading the home charges are Megan Simmonds and Danielle Williams, the 2015 world champion.
In the men's 110m hurdles, US champion and Olympic finallist Devon Allen makes his debut in Jamaica and he will battle with teammates Ronnie Ash and Jarrett Eaton, the winner at last year's Jamaica International Invitational.
Rio semi-finalists Andrew Riley and Deuce Carter, as well as Tyler Mason are the Jamaican trio looking to stop a USA podium sweep.
In action in the field, Columbian two-time world and Rio Olympic triple jump champion Caterine Ibarguen will make her season debut against Jamaica's Shanieka Thomas-Ricketts.
Jamaica's Fedrick Dacres, who leads the world list in the men's discus throw, will hope to improve on his ranking in the event, while Sam Kendricks, the American Rio bronze medallist, starts as the man to beat in the pole vault.