English Premier League Scores, Highlights, Reactions: Oct. 28
MANCHESTER, Sporting Alert — English Premier League scores, video highlights and reactions after the games that took place in Week 10 on Saturday, Oct. 28.
Anthony Martial climbed off the bench to score a late winner and Manchester United beat Tottenham 1-0 at Old Trafford in the English Premier League on Saturday.
Tottenham played without injured top scorer Harry Kane.
Martial, who replaced Marcus Rashford in the 70th minute, took full advantage of Spurs' defensive lapse to run behind the backline off a Romelu Lukaku flick-on and scored the winner in the 81st minute.
Manchester United Leave It Late In 1-0 Win Over Tottenham
https://www.youtube.com/watch?v=SuqCadAy_QI
The Frenchman's goal came minutes after Lukaku had hit the post with a header and Tottenham attacking midfielder Dele Alli put a great chance wide, following a pass from Christian Eriksen.
Spurs certainly missed Kane, while Manchester United were without the likes of Michael Carrick, Paul Pogba and Marouane Fellaini through injury.
The win on Saturday sees Manchester United bouncing back from the 2-1 defeat at Huddersfield last week.
It was also the first English Premier League win for Jose Mourinho's side in their last three games.
Tottenham dropped three points behind the Red Devils in the Premier League standings and eight behind leaders Manchester City.
Manchester United manager Mourinho told Sky Sports: "That was difficult, it could have been a draw. Both teams were trying to win but both knew the opponent was strong."
The Portugal coach believed his team controlled the game.
"Apart from Dele Alli's chance, we controlled them well," he said. "It was tactically difficult for both and it was well refereed. It was strong, aggressive.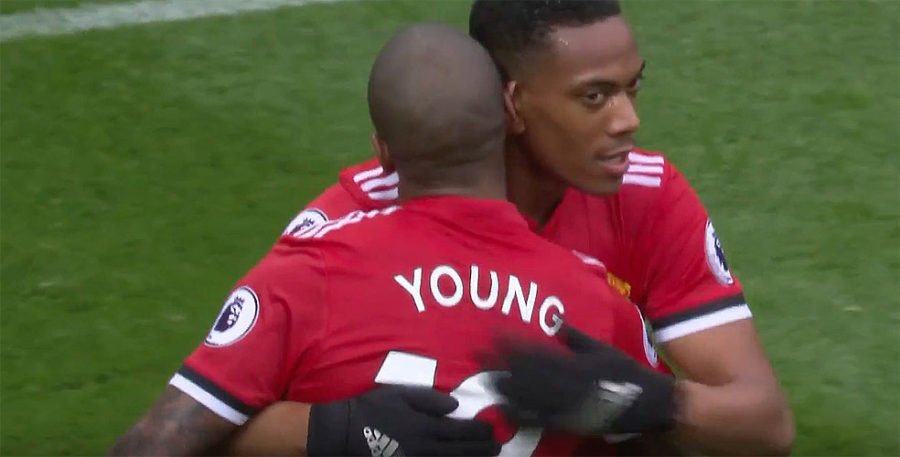 ---
"We knew if we had one defensive mistake we could lose and that's what happened to them. We tried and we deserved the victory."
Meanwhile, Tottenham manager Mauricio Pochettino thought his team "deserved more" although the battle "was a tough game."
"It was an even game. It was a shame to lose. The chances were for one and then the other," he told Sky Sports.
"It was a tough game and I think we deserved more. I feel proud of the effort and it was unlucky that in the last 10 minutes we conceded our goal. It was our mistake.
"It is important to be calm and in football these type of mistakes happen. We must fix that and move on. We cannot change the result."
Pochettino added: "We contained United very well. Always we were in control of the game.
"We had the ball but it is true we did not create enough chances to score. In this type of game if you make a mistake you lose."
MANCHESTER CITY MARCHED ON
Leaders Manchester City secured a 3-2 victory at West Bromwich Albion to maintain their healthy lead in the EPL standings.
Leroy Sane, Fernandinho and Raheem Sterling were the goalscorers for the Citizens, while Jay Rodriguez and Matt Phillips found the net for the Baggies.
Manchester City Top West Brom 3-2
The three opening goals of the contest came in a busy five-minute span early in the first half.
Manchester City went ahead when Leroy Sane slotted home in the 10th minute to break the deadlock.
That lead, however, lasted just three minutes, as West Brom leveled through Rodriguez in the 13th minute.
The visitors went right back on the front foot after the Baggies goal and they took the lead again thanks to a fine strike by Fernandinho.
Substitute Sterling slotted home from close range to add a third for Manchester City in the 64th minute, before Phillips pulled one back for the home side to set up an unsettling finish for the travelers deep into stoppage time.
"We won and that's the most important thing. We didn't panic when it became 1-1 or when it became 3-2 at the end," Man City boss Pep Guardiola told BBC MOTD.
---
"They played five at the back with two strikers which was different. But we started well again and have started scoring earlier.
"Leroy Sane has a special talent and runs in from behind – it's important to do that. He's still young though and there are many things he can improve upon."
Speaking to BBC MOTD after the defeat, West Brom manager Tony Pulis said: "Jay Rodriguez was fantastic today. We needed to hang on today. Their second was fortunate – it took two deflections.
"I tried something different today. We tried to keep the numbers equal in defence to battle their attack. but they always create chances."
Manchester City have now won their last eight English Premier League games by an aggregate score of 32-5, according to BBC Stats.
At the Vitality Stadium, Chelsea edged Bournemouth 1-0 to remain in the title hunt.
---
Eden Hazard picked a good time to score his first English Premier League goal of the season for Chelsea to secure the narrow win.
Hazard picked up a ball on the left-hand side of the pitch after Simon Francis failed to stop the initial buildup pass from Alvaro Morata and the Belgian forward dribbled inside the box before firing low past Asmir Begovic from a tight angle in the 51st minute.
The win saw the defending champion moving to 19 points in fourth place, one behind third-place Tottenham.
https://www.youtube.com/watch?v=LFC6D_CB1yg
"I think we deserved to win because we played good football," Chelsea manager Antonio Conte said. "When you have a lot of chances to score, I think you must do it."
He added: "We must be pleased for the clean sheet. It's OK when you don't concede a goal, it means you are finding solidity which is very important for a team like Chelsea.
"We played a good game with a good balance and finally I think we deserved to win."
There were wins also for Liverpool and Arsenal — two teams still hunting Champions League places and even the league title.
Liverpool Power Past Huddersfield 3-0
https://www.youtube.com/watch?v=znPm12iywLk
Liverpool pulled Huddersfield Town back down to earth after thrashing the visitors 3-0 at Anfield.
Second-half goals from Daniel Sturridge, who netted his 100th club career goal, Roberto Firmino and Georginio Wijnaldum sealed the win for the Reds, who moved to sixth in the English Premier League standings with 16 points.
Arsenal, meanwhile, came back from a goal behind at half-time to defeat Swansea 2-1 at the Emirates.
Arsenal Comeback To Top Swansea City 2-1
https://www.youtube.com/watch?v=0pMBf7nytNs
Swansea took the lead through a Sam Clucas finish in the 22nd minute, following a brilliant through ball from Tammy Abraham.
But Arsenal answered with two quick strikes shortly after the interval to bagged all three points.
The Gunners pulled level through Sead Kolasinac in the 51st minute when he fired home a loose ball, before Aaron Ramsey completed the turnaround just seven minutes later with a well guided left-footed effort from inside the area.
Elsewhere, Darren Fletcher lone goal was enough for Stoke City to pick up a 1-0 win over Watford, while Wilfried Zaha netted late to secure a 2-2 draw for Crystal Palace against West Ham.
— Jeff Brodrick and James Anderson also contributed to this article