LONDON (Sporting Alert) — English Premier League standings and fixtures heading into Week 34 this coming weekend.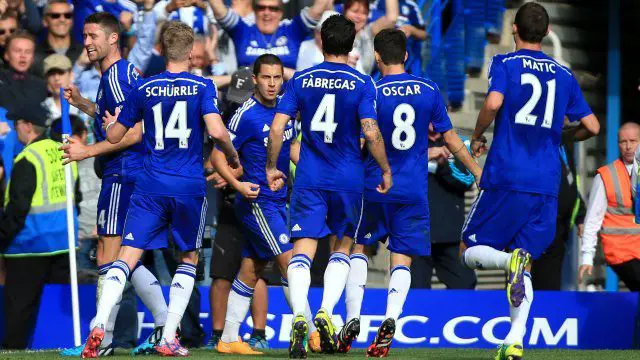 The action pickup again on Saturday with seven games, as Manchester United, Liverpool, Southampton and Leicester City all go in search of points for different reasons.
Fourth place Manchester United can go second in the table standings with a victory over West Bromwich at home and manager Louis van Gaal will be hoping his side can take advantage of the situation.
The Red Devils, who sit 4th on 65 points, enter the contest at Old Trafford after suffering back-to-back defeats in recent weeks, but can go above Manchester City and Arsenal in the race for second place.
After losing to Hull City in their midweek fixture, Liverpool will try to bounce back against a QPR side that is fighting for survival.
Liverpool, who are fifth in the EPL on 58 points, missed the chance to close the gap between them and Man United in the race for Champions League football and the pundits believe Brendan Rodgers can now plan for Europa League football.
QPR, in the meantime, sit second from bottom in the standings and after losing three of their last five games, the EPL strugglers know things must change quickly if they are to avoid relegation.
Another team battling for life in the Premier League is Sunderland and they will play host to Southampton, who are still hoping to play in Europe next season.
The Saints battered Sunderland 8-0 at home for their biggest Premier League win when these two side met in October, but Southampton boss Ronald Koeman isn't expecting a similar scoreline in the game on Saturday.
"We had unbelievable help from the players of Sunderland," said Koeman. "It was so strange. We didn't play really well.
"We scored great goals, but the game of this Saturday will be totally different. They have two home games and they need two wins. That means a lot of pressure and we have to prepare for that.
"Dick Advocaat is a man with a lot of experience in difficult circumstances. He will give them the fighting spirit to stay in the Premier League."
A win for Southampton could see them climb as high as 5th if other results go their way, while Sunderland will march out of the relegation zone and move to 16th with three points.
Meanwhile, Chelsea, who are just a win away from lifting the EPL title this year, entertain Crystal Palace at Stamford Bridge on Sunday and the celebrations are being prepared.
In fact, it is being reported that the Premier League trophy has already arrived at the Bridge, and Chelsea are furious with the BBC for allowing the public to gain access.
The Premier League and Chelsea granted the BBC permission to film and prepare footage with the trophy ahead of Sunday's likely title winning game, but things didn't go according to plan and two of the three parties were left angery.
"We were filming a sequence for use in the event that Chelsea win the Premier League and the footage will only air on that basis," said a BBC spokeswoman said.
"We made every effort to ensure the trophy wasn't exposed to the public, but unfortunately it was briefly visible from a distance to a stadium tour."
Elsewhere, defending champions and second place Manchester City will take on Tottenham as the race for second place continues, while Hull City will entertain third place Arsenal on Monday.
In other fixtures Aston Villa and Everton will meet, Swansea City entertain Stoke City and West Ham United battle against Burnley.
Premier League Fixtures
Saturday, May 2 (CT)
Leicester City v Newcastle United (6:45 AM)
Aston Villa v Everton (9:00 AM)
Liverpool v Queens Park Rangers (9:00 AM)
Sunderland v Southampton (9:00 AM)
Swansea City v Stoke City (9:00 AM)
West Ham United v Burnley (9:00 AM)
Manchester United v West Bromwich Albion (11:30 AM)
Sunday, May 3 (CT)
Chelsea v Crystal Palace (7:30 AM)
Tottenham Hotspur v Manchester City (10:00 AM)
Monday, May 4 (CT)
Hull City v Arsenal (2:00 PM)
Standings P W D L F A Pts
1 Chelsea 34 24 8 2 68 27 80
2 Manchester City 34 20 7 7 70 36 67
3 Arsenal 33 20 7 6 63 32 67
4 Manchester United 34 19 8 7 59 34 65
————————-
5 Liverpool 34 17 7 10 47 37 58
6 Tottenham Hotspur 34 17 7 10 55 49 58
————————-
7 Southampton 34 17 6 11 47 26 57
————————-
8 Swansea City 34 14 8 12 41 44 50
9 Stoke City 34 13 8 13 39 42 47
10 Everton 34 11 11 12 44 43 44
11 West Ham United 34 11 11 12 42 42 44
12 Crystal Palace 34 11 9 14 42 47 42
13 West Bromwich Albion 34 9 10 15 32 46 37
14 Newcastle United 34 9 8 17 36 57 35
15 Hull City 34 8 10 16 32 45 34
16 Aston Villa 34 8 8 18 26 48 32
17 Leicester City 34 8 7 19 36 54 31
————————-
18 Sunderland 33 5 15 13 26 49 30
19 Queens Park Rangers 34 7 6 21 38 59 27
20 Burnley 34 5 11 18 26 52 26