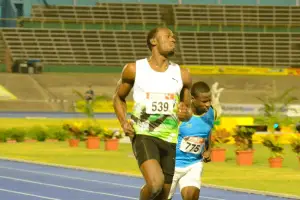 OSLO, Norway (Sporting Alert) — Usain Bolt was again in a confident mood ahead of Thursday's ExxonMobil Bislett Games, the sixth stop of the IAAF Diamond League meeting for 2013 in Oslo.
Watch ExxonMobil Bislett Games Live on Universal Sports.com
Bolt was upset by American Justin Gatlin over 100m in Rome, last week, but the Jamaican World record holder has already shaken off that setback and says he's ready to prove that he hasn't lost a step.
"I watched the Rome race back once, and I've spoken to my coach after he analysed it," Bolt said at his press conference.
"He said my start was good and I was over-striding a bit, that's all he has said for now, but I know when I go back home we'll sit and talk some more about it."
The six-time Olympic gold medallist also rebuke suggestions that his recent performance was a sign that he is beatable at this summer's World Championships in Moscow, adding that losing a race during the season doesn't prove anything.
"I'd like to point something out. In 2008, I lost one race, then won the Olympics. 2010 was an off-year for me and I said that if anyone was going to beat me, it would be that season; Tyson Gay beat me," Bolt noted.
"Last year [Yohan] Blake beat me at the national trials, but I won at the Olympics again. So it doesn't mean much to lose a race during the season, I always focus on the championships.
"My eyes are always on the prize and for me this year that's the 100m and 200m in Moscow."
In Oslo, Bolt will race over the 200m and takes on home favorite Jaysuma Saidy Ndure, fellow Jamaican Mario Forsythe and St Kitts and Nevis' Kim Collins.
Meanwhile, as expected, Bolt, anywhere he lines up will be the main attraction, but there will be several other world-class athletes on show Thursday night.
Amongst them will be Luguelin Santos, Dominican Republic's 2012 Olympic Games 400m silver medallist, who will match strides with Saudi Arabian star Youssef Al-Masrahi, who has an improved personal and seasonal best of 44.72. Santos' best this year is 44.74.
The Ivory Coast's Muriele Ahoure, who recently shocked American Allyson Felix over 200m, starts favorite to win the women's 100m against Jamaica's Sheri-Ann Brooks, Bulgarian Ivet Lalova and Ukraine's Mariya Ryemyen.
In the field events, Piotr Malachowski of Poland who is coming off a massive 71.84m world leading performance in Hengelo, five days ago, starts as the man to beat in the Discus Throw, Ukrainian world leader Olha Saladuha and Caterine Ibargüen of Columbia head the field in the women's Triple Jump, while Germany's Christina Schwanitz could have things her own way in the women's Shot Put.
The battle in the women's High Jump between World and Olympic champion Anna Chicherova of Russia and two-time former World champion Blanka Vlasic from Croatia, is also expected to lively up the action in the field events as well.