UPDATED REPORT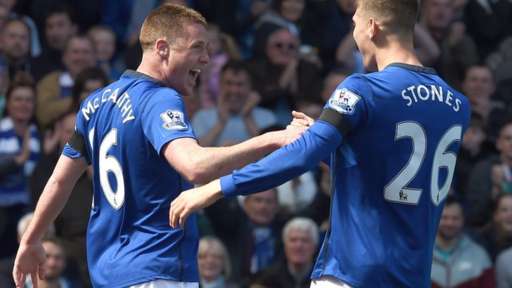 Everton beat Manchester United 3-0 in their English Premier League clash at home on Sunday.
First half goals from James McCarthy and put Everton head at half time.
McCarthy gave the host side the lead after he finished off a counter-attack with five-minutes gone on the clock, before defender Stones headed home his team's second. Substitute Kevin Mirallas finished things off in the second half as the Red Devils were beaten at this venue for the third straight time.
It was also the first time that Manchester United have suffered successive defeats under manager Louis Van Gaal.
Manchester United were hoping for a win that would put them into second place until Chelsea and Arsenal kick-off later this afternoon, but Van Gaal and his side must now re-group and prepare for the next fixture.
McCarthy said speaking to Sky Sports:
"It's unusual I get into those positions to score goals

"It's been a frustrating campaign, now we want to finish the season on a high. We won't get too carried away. It's a big win.

"We knew Man United would come at us and we hurt them on the break a couple of times. We were magnificent all over the pitch."
————GAME PREVIEW BELOW—————
(Sporting Alert) — Manchester United have made one change from the side that was beaten by Chelsea last week, while Everton have Romelu Lukaku back for today's Premier League clash at Goodison Park.
For Man United, midfielder Daley Blind comes back into the starting setup for Radamel Falcao, who drops to the bench. Captain Wayne Rooney, who featured in midfield in the defeat at Chelsea, returns to the frontline against his first club.
With Blind in the side, it means that Ander Herrera can also play a bit more forward.
Robin van Persie, Angel di Maria and Adnan Januzaj are all on the bench.
Marouane Fellaini will return to face his former club, while the Red Devils are still without Michael Carrick (calf), Phil Jones (ankle) and Marcus Rojo (adductor).
"Everton are a very good team – we saw that in the home match we played against them – and they create a lot of chances," Manchester United manager Louis van Gaal told Sky Sports in his pre-game interview.
"At home they are stronger and they have a lot of good matches behind them coming into this match.
"I have picked the team that has won all the games the last few weeks.
"Wayne Rooney is better in a striker position in the team and Ander Herrera is in a better position a line further forward so that's why I have chosen them there."
Everton will have striker Lukaku back in its starting line-up for the first time in a month and he will be hoping for a good performance after injuries affected his form this season.
Also returning to the starting lineup is Leon Osman, with Arouna Kone and Kevin Mirallas dropping from the starting XI.
"It's important we have everyone fit. It's great to have Romelu Lukaku back, challenging for his position," Everton boss Roberto Martinez said to Sky Sports.
"Leon Osman brings us a different approach – it's a tactical change. He knows how to play at Goodison, his know-how is important."
He added: "The game is as big a test as we could get. Manchester United have slowly found a winning formula.
"We faced them early in the season and you can see the turnaround in fortunes, and it's good to see where we are and how we can finish the season."
Manchester United can move into second place with a win before Chelsea and Arsenal kick-off later.
Everton: Howard, Baines, Stones, Jagielka, Coleman, Barry, McCarthy, Osman, Barkley, Lennon, Lukaku.
Manchester United subs: Valdes, Blackett, Januzaj, Pereira, Di Maria, van Persie, Falcao.
Manchester United: De Gea, Valencia, Smalling, McNair, Shaw, Blind, Herrera, Mata, Fellaini, Young, Rooney.
Manchester United subs: Valdes, Blackett, Januzaj, Pereira, Di Maria, van Persie, Falcao.