[wptab name='Recap']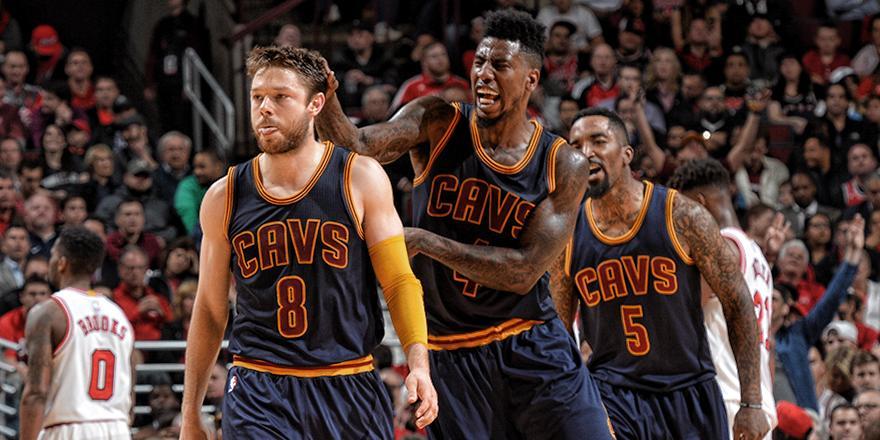 CHICAGO (Sporting Alert) — Matthew Dellavedova scored a team high 19 points off the bench and the Cavaliers eliminated Chicago from the playoffs with a 94-73 win in Game 6 of the Eastern Conference semi-finals on Thursday night. Box Score – More Highlights
Dellavedova stepped in for Cleveland for the injured Kyrie Irving, who aggravated his injured knee and left the game early to be the best player on the floor for the travelers.
"We are blessed to have a guy like that," LeBron James said about Dellavedova. "I am so happy for him and I am so proud of him for stepping up with Kyrie injured."
James, who was 7-of-23 from the field, finished with 15 points, nine rebounds and 11 assists.
He is heading to his 5th successive conference final.
Cleveland is reaching its first Eastern Conference final since 2009.
It was also the fourth time in six-years James' teams were eliminating the Bulls in the playoffs.
Tristan Thompson had 13 points and 17 rebounds and Iman Shumpert added 13 points and seven boards in the win for the Cavs.
Jimmy Butler paced the Bulls with 20 points, while Derrick Rose added 14 points and six assists in the defeat.
Star forward Pau Gasol made a return for Chicago after sitting out two games, but he was 3-of-8 from the floor for eight points in 24 minutes.
The Cavs led 58-44 at half time and held the Bulls to just 13 points in the fourth quarter. Chicago went 1-of-10 from three-point range in the first half.
Both teams struggled to get going to start the second half, with the Cavs starting with 0-for-9 from the floor before finally ending their drought with 6:12 left in the third.
After that, the visitors then went on a 7-0 run — with James hitting back-to-back fade-away jumpers from the corner and the lead increased quickly to 19 points.
At one point, the Bulls, who had scored eight-points in 12:35, went 1-for-13 to the start the 3rd quarter.
They failed to take advantage of James being in foul trouble and Kyrie Irving sitting on the bench with a knee problem.
The hosts were made to pay as Cleveland took charge.
The Cavaliers started the fourth quarter lively, with Dellavedova scoring ten fast buckets, to help push the lead to 27 points.[/wptab]
[wptab name='Preview']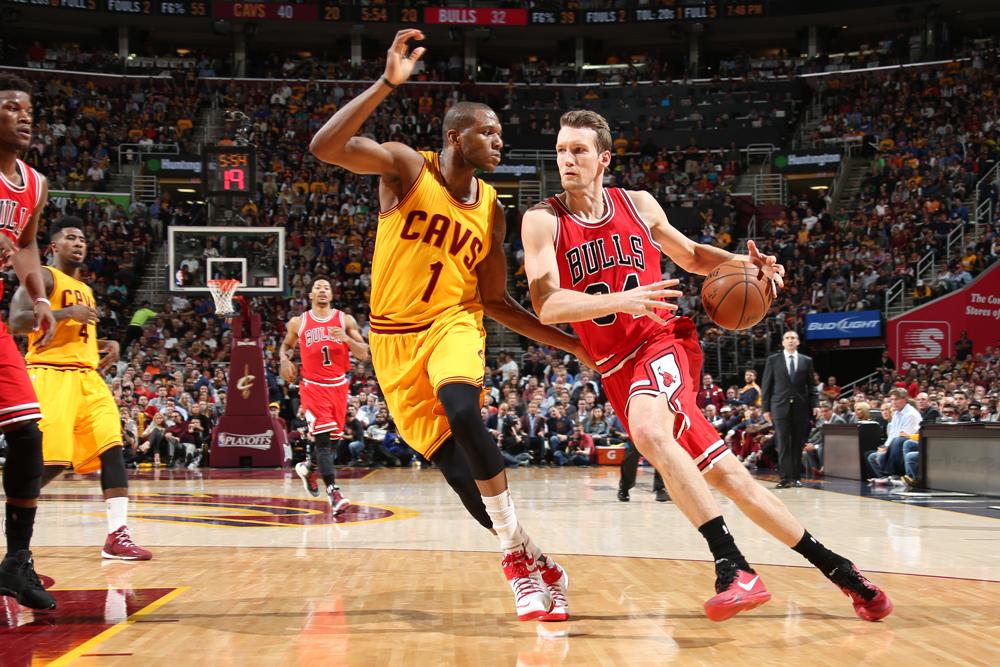 CHICAGO (Sporting Alert) — The Cleveland Cavaliers take on the Chicago Bulls on Thursday night, looking to close of their Eastern Conference semi-finals at United Center.
#CavsBulls BROADCAST INFO: TV: @espn | #CavsLive starts at 7:30PM – @FOXSportsOH RADIO: @wtam1100, @wmms, @LaMega877 #ALLinCLE

— Cleveland Cavaliers (@cavs) May 14, 2015
The Cavs take a 3-2 lead into Game 6 after securing a 106-101 positive result in Game 5 Tuesday night, behind LeBron James' dominating performance of 38 points, 12 rebounds, six assists, three steals and three blocks.
Kyrie Irving was also in good touch after shaking off his discomfort from a strained right foot to add 25 points on 9-of-16 shooting from the floor.
The star point guard said after the team's session on Thursday that he was feeling good and is ready to close out the series tonight.
He also admitted earlier that he wasn't 100-percent fit, but is "really confident" in getting the job done.
"I'm not 100 percent, but I'm going to go out there and play," Irving said.
"Just being in my spot, being able to knock shots down when I'm open. Obviously, I'm still really confident in myself, but I just want to go out there and play for my brothers.
"That's all that matters at this point."
After watching his team going down in Game 5, Bulls forward Pau Gasol plans to play Thursday night, Yahoo!Sports reports.
Gasol missed the last two games with a hamstring injury, but is ready to block the pain to help his team come back in the series.
The 13-year veteran, who admits that he is not 100-percent, took part in a light workout on Wednesday and said he will attempt to play some part in the coming fixture, regardless of his status.
"I don't know, but whatever percentage I will be, that's what I'll give," Gasol said.
Gasol is averaging 15.1 points, 9.9 rebounds and 2.3 blocks per game in the postseason this term.
Meanwhile, in Tuesday night's defeat, Jimmy Butler, who is averaging 23.2 points per game and is leading Chicago in scoring in this postseason, scored 29 points on 50-percent shooting from the floor, while pulling down nine rebounds.
Mike Dunleavy added 19 points and Derrick Rose finished with 16 points, nine rebounds and seven assists in the defeat.
Joakim Noah is averaging 10.2 rebounds against the Cavs in five games and the Bulls will be hoping the star center can continue to lead the way in that area come Thursday night.
Cavs coach David Blatt says the team will be ready for Game 6
He said: "Like everything else this season, whatever comes, we'll be up for the task."
[/wptab]
[end_wptabset]