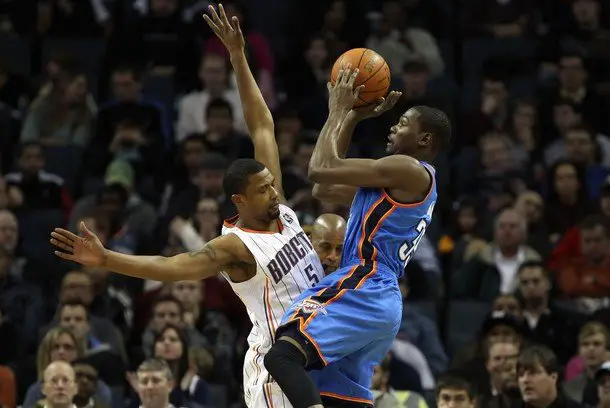 Harden Leads Rockets Against Thunder: Live on TNT Network
HOUSTON (Sporting Alert) — Kevin Durant and the Oklahoma City Thunder travel to Houston to face James Harden and the Rockets at the Toyota Center hoping to make up grounds in the Western Conference.
Game will be televised live on TNT Network and stream live on line at TNT Overtime @ 8:00 PM ET
The Thunder (18-19) have been inactive since the 99-94 victory over the Utah Jazz on Jan. 9, and they are ready to get back on the court in an attempt to move to .500 on the season.
Houston (27-12) had its four game winning streak snapped with a 120-113 defeat at the Orlando Magic on Wednesday and the hosts will be hoping to bounce back immediately.
Thursday night's game will see two of the league's free scorers and former teammates coming together.
Harden, who leads the league offensively in points per game at 26.9, is shooting 44.7-percent from the floor, while averaging 6.7 assists and 5.6 rebounds per game.
James has had some hot and cold spells against the Thunder since his trade, but has scored 46 and 39 points, respectively against them in Houston.
Durant, in the meantime, is shooting 52.2 percent from his limited 14 games this season and is averaging 25.0 points, 6.2 rebounds and 3.6 assists per game.
Oklahoma City are sitting 10th in the Western Conference, 13 1/2 games behind conference leaders Golden State and three games off the Phoenix Suns, who are sitting eighth.
The Rockets, meanwhile, are 4th in the conference, a half a game behind Memphis, and they will be hoping to stay close to the top three, while fend off the likes of Dallas and LA Clippers, who are trailing.
Houston is ranked 11th in points per game with 102.1 and 4th in points allowed at 97.5.
However, after failing to get stops and giving up 120 points against the Magic, Harden wants to see the focus on defense again.
"I think we can score with any team in the league," he said. "But we can't give up 120 points."