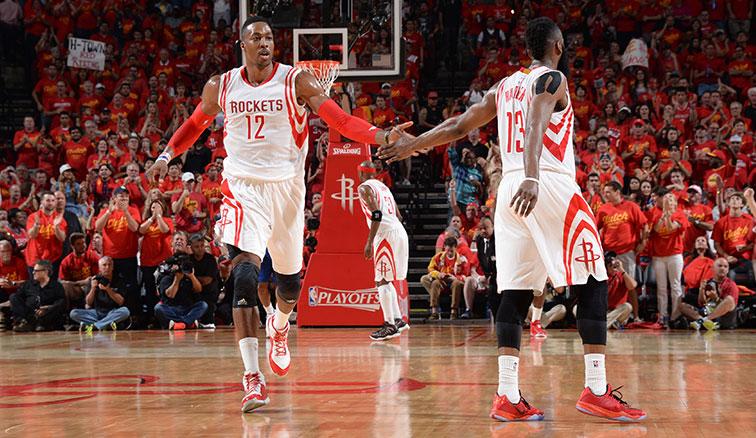 HOUSTON (Sporting Alert, Box Score: Clippers v Rockets) –The Los Angeles Clippers gave away Game 6 and paid heavily after they were eliminated from the NBA playoff at the hands of the Houston Rockets in Game 7 on Sunday.
Up 3-1 in the series, the Clippers failed to capitalized twice and were dumped from the postseason, following the 113-100 defeat at the Toyota Center in Texas.
Houston won three straight to take the series 4-3 and setup a Western Conference final battle with the No. 1 seed Golden State Warriors.
Rockets will face Warriors in WCF Game 1 on Tuesday. ALL games at 8PM on ESPN.

FULL SCHEDULE: http://t.co/K9uzkt6eke pic.twitter.com/5JANnUK75T

— Houston Rockets (@HoustonRockets) May 17, 2015
On Sunday in Game 7, James Harden, despite shooting just 7-of-20 from the field, finished with 31 points, eight assists, seven rebounds and three steals to paced the Rockets at home.
Trevor Ariza hit six 3-pointers on his way to 22 points to go along with his seven rebounds, while Dwight Howard, who was grabbing his 15th double-double in 18 career playoff games with the Rockets, added 16 points and 15 boards for Houston, which outscored the Clippers 48-36 in points in the paint.
Blake Griffin scored 27 points, grabbed seven rebounds and dished out six assists, with Chris Paul adding 26 points 10 assists, five rebounds and four steals for the LA Clippers, who gave up 27 points from 18 turnovers.
Jamal Crawford contributed 17 points and DeAndre Jordan finished with 16 points, 17 rebounds and three blocks for Los Angeles, which trailed by as many as 20 points in the game.
Halftime box score: pic.twitter.com/CWCvUSBLWi

— Houston Rockets (@HoustonRockets) May 17, 2015
Houston jumped all over the Clippers from the early minutes and took a 56-46 lead at halftime.
The Clippers made a run immediately after the interval to cut the deficit to three-points, but a series of turnovers gifted the hosts with easy points and build another big lead.
#PlayOfTheGame: Video Game James zipping through the defense for the JAM! @HoustonRockets move on #GreatnessAwaits! http://t.co/sj7zscldKo

— NBA (@NBA) May 17, 2015
The Clippers will go home knowing they blew their best chance thus far of advancing beyond the second round for the first time in franchise history.
Corey Brewer, who played 23 valuable minutes for Houston, scored 11 points on 4-of-8 shooting.