Hawks 106-90 Wizards Game 2 Box Score
The Atlanta Hawks took care of business in Game 2 of their Eastern Conference second round series with Washington Wizards to tie-up the series at 1-1 heading on the road.
FINAL SCORE
ATLANTA (106)
Carroll 9-16 3-3 22, Millsap 6-16 5-6 18, Horford 8-15 2-2 18, Korver 4-11 0-0 12, Antic 2-6 2-2 8, Bazemore 3-3 2-2 10, Schroder 2-4 5-6 9, Teague 3-12 3-4 9, Muscala 0-2 0-0 0. Totals Team Stats 37-85 22-25 106.
WASHINGTON (90)
Sessions 8-14 2-5 21, Beal 8-22 2-3 20, Porter 6-12 1-2 15, Pierce 5-10 0-0 15, Gortat 5-10 0-0 10, Gooden 2-4 1-2 5, Temple 1-4 0-0 2, Nene 0-5 2-2 2, Seraphin 0-1 0-0 0. Totals Team Stats 35-82 8-14 90.
3-Point Goals-Washington 12-22 (Pierce 5-8, Sessions 3-5, Porter 2-3, Beal 2-3, Gooden 0-1, Temple 0-2), Atlanta 10-29 (Korver 4-11, Bazemore 2-2, Antic 2-5, Millsap 1-3, Carroll 1-4, Muscala 0-1, Teague 0-3). Fouled Out-Gortat.
Rebounds-Washington 50 (Gortat 9), Atlanta 54 (Millsap 11). Assists-Washington 21 (Beal 7), Atlanta 30 (Teague 8). Total Fouls-Washington 21, Atlanta 16. A-18,131 (18,729).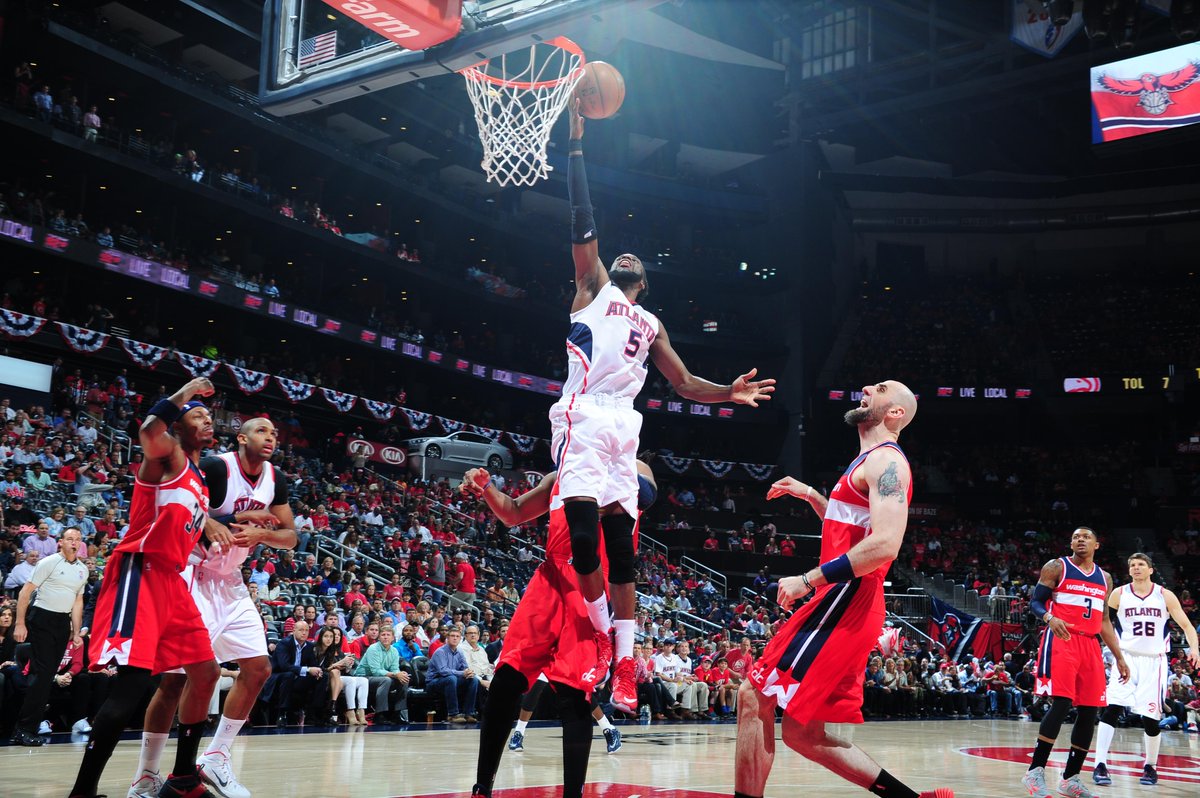 (Sporting Alert) -- The Golden State Warriors and Washington Wizards will take 1-0 leads into Tuesday second round playoffs Game 2 respective fixtures.
TNT Overtime Streaming Both Games Live Online. The TNT Network will have live television coverage.
Golden State, led by the recently crown MVP Stephen Curry, will take a 1-0 lead into their Western Conference semi-final clash with the Memphis Grizzlies, while the John Wall-less Wizards take a similar lead against the Atlanta Hawks.
In the first game at 7:00 PM CT, Eastern Conference top-seed Atlanta will try to bounce back from Sunday's shocking defeat to Washington and get back into the series before heading on the road.
Wall, who hurt his left wrist during Sunday's Game 1 battle, was listed as questionable for the Wizards.
However, the team reported that the All-Star point guard will not play in Game 2.
He had an impressive 18 points, 13 assists, seven rebounds and three steals performance in Game 1, while partner in crime Bradley Beal added 28 points and seven rebounds in the win.
Washington, which swept the Toronto Raptors 4-0 in their first round playoff series, are 5-0 in the postseason this year.
"Last year we were just happy to be in the playoffs, just happy we moved on. We didn't have many goals after the first round," Beal said.
"This year, we expect more from ourselves. We're really focused on what we need to continue to do to move forward."
The Wizards trailed by 10 points heading into the fourth quarter, but outscored the Hawks 23-15 in the final quarter to seal the road win, as six players scored in double figures.
DeMarre Carroll led Atlanta in Game 1 with 24 points, while Al Horford finished with 17 points, 17 rebounds and seven assists in the defeat.
Wall was involved in the last 14 of the Wizards points, while Beal did most of his damage in the second quarter and Carroll believes the pair must be guarded better.
"Maybe we have to turn the heat up a little bit more, get a little more physical, get more aggressive on John Wall and Bradley Beal," said Carroll.
"I think we kind of sat back and let them dictate their offense."
In the second game on the night, Curry and the Warriors, who are also undefeated in the playoffs this season, will take on the Memphis Grizzlies, who are hoping that point guard Mike Conley will be able to feature after missing Game 1.
Conley, (face) practice on Tuesday and has been listed as questionable for Game 2. He started the week listed as doubtful to play.
Conley average 16 points and 3.7 assists in the three playoffs games played against the Portland Trail Blazers before he got injured and had to do facial surgery.
He was certainly missed, especially in Game 1 against the Warriors in the 101-86 defeat on Sunday.
Si quieres conocer otros artículos parecidos a Hawks 106-90 Wizards Game 2 Box Score puedes visitar la categoría Leads.