NORMAN, Okla., Sporting Alert — Unranked Iowa State used a strong second half to stunned Oklahoma 38-31 at Memorial Stadium on Saturday, their first win over the Sooners since October 1990.
Kyle Kempt passed for 343 yards and three touchdowns after being handed the starting role this week and heavy underdogs Iowa State rallied from a deficit to upset No. 3 Oklahoma in Norman.
"There's been a lot of adversity at Iowa State for a long time and there's been a cloud around us," Cyclones coach Matt Campbell said after his team's win.
"I think our kids said, 'I'm sick of it, and we're going to keep grinding, keep swinging and getting better one day at a time.' So at the end of it, here we are."
Baker Mayfield passed for two touchdowns and ran for another score for the Sooners in the defeat.
Oklahoma led 14-3 at the end of the first quarter and improved the lead to 24-10 in the second quarter.
However, the Cyclones (3-2) rallied to lock the scores at 24-24 entering the fourth period before jumping ahead 31-24 with 12:46 left in the game.
Dimitri Flowers' one-yard run pulled the Sooners (4-1) even again at 31-31 before Kempt found Allen Lazard on a 25-yard pass for a score with 2:19 left and Iowa State held on for the win.
Kempt, who also connected with Trever Ryen and Marchie Murdock for scores, went 18-of-24 on completed passes and then made way for Joel Lanning, who made plays on both offense and defense in the road win.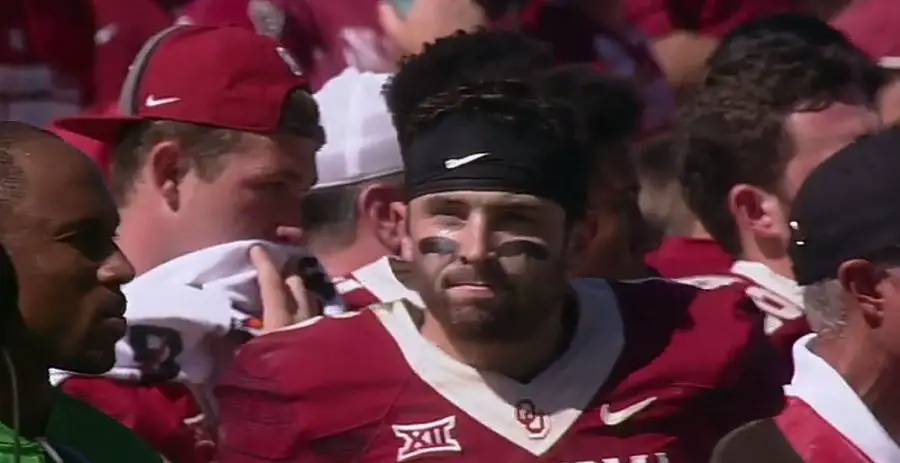 ---
Ryen took four catches for 99 yards and his score, David Montgomery caught seven balls for 89 yards and had another 55 yards on the ground with a TD, while Lazard had three receptions for 69 yards.
Mayfield finished 24-of-33 for 306 yards and ran for a further 57 yards in the defeat for Oklahoma.
Flowers had seven catches for 95 yards and Trey Sermon ran 18 times for 90 yards for the Sooners, who had their nation-leading 14-game win streak snapped.
Oklahoma also saw its 18-game winning streak against the Cyclones ended.
"I think it's a sense of complacency," Mayfield said. "We've been talking about it. It's not like it's not been apparent.
"We've let teams come back in games and give them hope. When you do that to a team that has their backs against the wall — we know exactly how it's feels — it's something that you can't do."