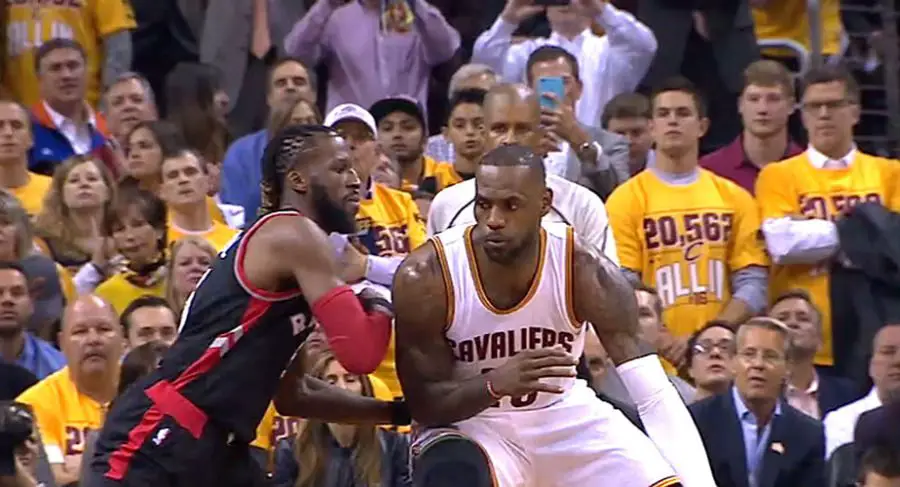 James Scores 38, Cavaliers Rout Raptors 125-103 in Game 2
CLEVELAND — LeBron James scored 38 points to move up on the career playoff scoring list, and the Cleveland Cavaliers rout the Toronto Raptors 125-103 to take a 2-0 lead in their Eastern Conference semifinals series at Quicken Loans Arena on Wednesday night.
James, who shot 10-of-14 from the field and made four 3-pointers, passed Kareem Abdul-Jabbar for second place on the NBA postseason scoring list.
Kyrie Irving recovered from a slow start to finish with 22 points and 11 assists for the Cavaliers, who dominated the game from the opening tip-off.
According to ESPN Stats and Information, Irving, who had 24 points and 10 rebounds in Game 1, was recording back-to-back 20-point and 10 assists games for the 1st time in his career (including playoffs).
Channing Frye finished with 18 points and five rebounds off the bench, while Iman Shumpert ended with 14 points and six rebounds in the win for the Cavaliers, who shot 54.7 percent from the floor and 54.5 percent from 3-point range.
Jonas Valanciunas scored 23 points off the bench on 10-of-13 shooting to lead the way for the Raptors.
Another reserve, Cory Joseph added 22 points with six rebounds and Kyle Lowry ended with 20 points with five assists in the defeat.
Also reaching double digit in scoring was Serge Ibaka, who finished with 15 points, but star guard DeMar DeRozan only had five points and was just 2-of-11 from the floor for the Raptors, who struggled from behind the arc after going 5-for-17 from long-range.
Cleveland led 34-22 after the first quarter and 62-48 at halftime.
The defending champions then scored 37 points in a very busy third quarter to end the period with a 99-73 advantage.
Cleveland's total in Game 2 on Wednesday night was the most points scored in a single game in the playoffs in franchise history.
The Cavs were winning 17 of their last 18 games at home and nine straight in the playoffs, dating back to last season.
Game 3 is Friday night at Toronto's Air Canada Centre.