LAWRENCE, Kansas — Gradey D i c k scored 20 points, including 13 in a perfect first-half shooting performance, and No. 8 Kansas routed No. 14 Indiana 84-62 in an AP Top 25 college basketball clash on Saturday (17). Read More: How to the AP Top 25 schedule today? College basketball on Dec. 17
Gradey shot a perfect 5 for 5 from the field in the first half, including 3 for 3 from 3-point range as the Jayhawks went into the break leading 44-29. It was a very productive day on offense for the home side as six Kansas players reached double figures in scoring.
Kevin McCullar Jr. had 11 points and 11 rebounds, Jalen Wilson and KJ Adams scored 11 apiece, and Dajuan Harris Jr. finished with 10 points and 10 assists as the Jayhawks (10-1) beat Indiana for the seventh time in their last nine meetings, according to the AP Stats and Information.
Indiana (8-3) which trailed by double digits for most of the contest, played most of the way without the team's second-leading scorer Xavier Johnson, who hurt his right ankle less than 10 minutes into the contest and didn't return to the game.
The senior guard, who'd been averaging 10.9 points and 5.2 assists, suffered the injury during a scramble for a loose ball. He returned on crutches wearing a walking boot to watch the second half from the bench.
Trayce Jackson-Davis had 13 points and nine blocks for the Hoosiers. Jalen Hood-Schifino added 11 points, six rebounds, four assists and three steals, while Race Thompson scored 11 points in the defeat for Indiana, which gave up 28 points from turnovers and was outscored 50-24 in the paint.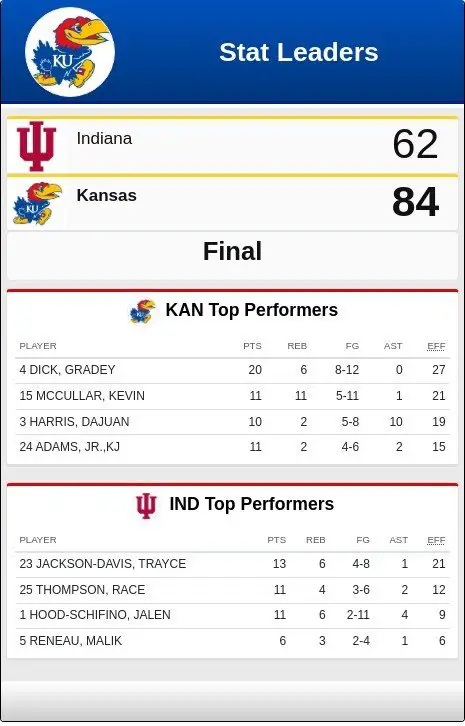 The Hoosiers will next be in action when they play hosts to Elon on Tuesday night. The Kansas Jayhawks welcome Harvard on Thursday night.