LA Lakers handed sixth successive defeat by Thunder, Magic worried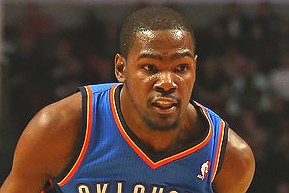 Lakers
vs Thunder" width="289″ height="193″ class="size-full wp-image-25146″ />
Kevin Durant
of
Thunder
against LakersLOS ANGELES (Sporting Alert) – "Bye Bye to my Lakers," commented
Magic
Johnson after Los Angeles were handed another
defeat
in the NBA on Friday night.
LA Lakers (15-21) struggles continued Friday after they were beaten 116-101 by the Oklahoma City Thunder at STAPLES Center.
Kevin Durant scored 42 points, including 25 in the first half, and pulled down eight rebounds for Oklahoma City (28-8) to hand the LA Lakers its sixth successive defeat.
"Kevin [Durant] had a hot hand and they missed some shots," Thunder coach Scott Brooks said. "We have to put things in perspective; they have some of their best players not playing tonight and they're shorthanded."
Lakers coach Mike D'Antoni added: "Kevin Durant was just unstoppable and we tried a little bit of everything on him.
"They were just longer, faster, better team-wise, and we crumbled away."
Russell Westbrook added 27 points, 10 assists and seven rebounds for the Thunder, while Kevin Martin chipped in with 15 points off the bench.
Kobe Bryant again paced Los Angeles Lakers with 28 points, while Antawn Jamison, finally getting some playing time, supported with 19 points and 10 boards in the defeat.
"We're just very frustrated and upset about what we're going through right now, and how we're playing," Bryant said.
"We're going to have to make some big adjustments if we're going to be successful.
"We gave up about 120 points tonight, and a lot of them were just layups and easy looks at the rim."
The LA Lakers also got some contribution from Metta World Peace, who scored 12 points and Earl Clark, starting only his second game for the club, finished with 10 points and 10 rebounds.
Los Angeles hand another miserable night from 3-point range – finishing with 6-of-28 for a disappointing 21percent from that range.
The many time champions, who again without the injured Pau Gasol, Dwight Howard and Jordan Hill, shot 39-of-98 from the field.