INDIANAPOLIS, Sporting Alert — LeBron James records his 17th career postseason triple-double and the Cleveland Cavaliers set an NBA record to stun the Indiana Pacers 119-114 and take a 3-0 lead in the first round series.
The Cavaliers gave up 74 points in the first half to find themselves trailing by 25 points at halftime.
However, James and Co. turned this around to outscore the Pacers 70-40 in the second half and set an NBA postseason record when erasing the opening half deficit.
"We just never quit," Cavs coach Tyronn Lue said.
"We knew the importance of this game. To go up 3-0, makes things a lot more difficult for those guys."
James finished with 41 points, 13 rebounds and 12 assists on his way to passing Kobe Bryant for No. 3 on the NBA's career playoff scoring list.
"We knew we had to take (some) punches, but it was a flurry, more than we expected," James told reporters.
"At halftime, I was just looking at the guys and telling them `Let's get a couple stops."'
The four-time MVP who has the second-most all-time career postseason triple-double behind Magic Johnson (30), also matched an NBA record with his 20th consecutive first-round game.
Kevin Love, Kyrie Irving, J.R. Smith and Channing Frye all scored 13 points.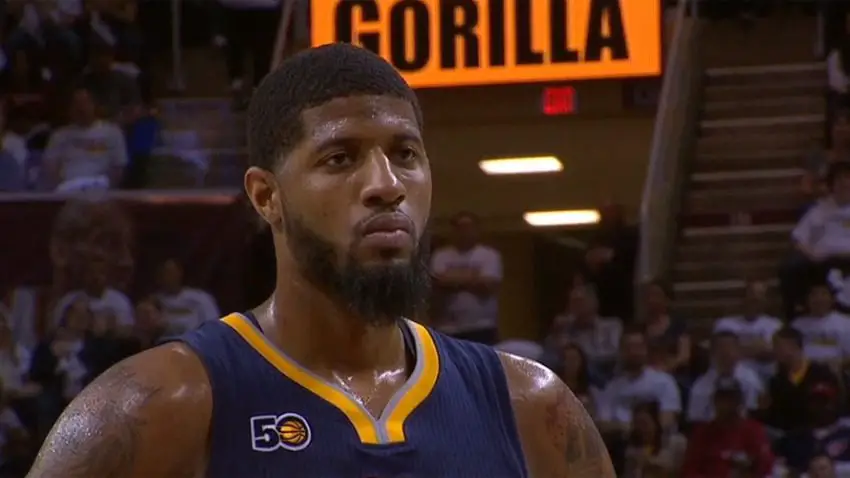 ---
Kyle Korver ended with 12 points and Tristan Thompson grabbed nine rebounds for Cleveland, which trailed by as many as 26 points, but shot 62.5 percent in the third quarter and 55.3 percent in the second half to seal the win.
Paul George, who admitted the Pacers got too relaxed with the big lead, had 36 points, including 23 in the first half to go with a playoff career-high 15 rebounds and dished out nine assists to lead Indiana.
"Early on in the third (quarter), I saw it getting out of hand," George said. "I trust the guys on that floor, but I just thought – you know, I watched it kind of unravel – that's when I should have stepped in and demanded the ball a little bit more."
Jeff Teague added 15 points and seven assists, Lance Stephenson had 13 points and six rebounds, while Thaddeus Young finished with 11 points and 14 rebounds for the hosts.
Kevin Seraphin scored 11 points in the defeat for the Pacers, who are now one defeat away from being eliminated in the playoffs by a LeBron James team for the fourth time in six years.
According to ESPN Stats and Information, prior to Thursday night's performance by Cleveland, the largest halftime deficit overcome to win a playoff game was 21 points by Baltimore against Philadelphia in 1948.
LeBron James and the Cavaliers can sweep the series with a win in Game 4 on Sunday.