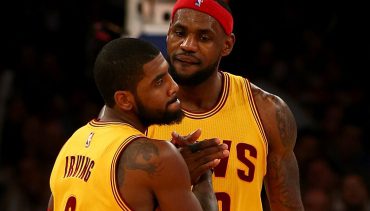 LeBron Misses Cavs v Thunder Clash: Live Box Score
OKLAHOMA CITY (Sporting Alert) — Cleveland Cavaliers have revealed that LeBron James will not play against the Oklahoma City Thunder Thursday night because of a knee problem.
The Cavs head coach David Blatt said James' problem is just knee soreness and nothing serious, but added that it was important for him to sit this one out.
"Nothing major. Again, not a serious problem," Blatt said. "We'll monitor it, we'll treat him and we'll see how he's feeling tomorrow."
James missed the Cavs' Thursday morning shootaround to get treatment on his knee and the club confirmed that the soreness, which is located in the back of the player's left knee was first felt during Cleveland's win over Eastern Conference leaders Toronto Raptors on Tuesday night.
Blatt said the 29-year-old is not on the schedule to undergo an MRI
"There was nothing specific that happened to him the last game," noted Blatt, who said James is sitting the game out as a measure of precaution.
"He's just got a little bit of soreness.
"It's happened to him before, it's not the first time. And we're being cautious, that's it."
Earlier in the day, when James was listed as questionable and looked like missing out,Cavaliers forward Kevin Love said that the game against the Thunder is the ideal opportunity for another player to step up.
"It's another opportunity for somebody to step up," said Kevin.
"We know what we lose in LeBron, and this will be a great opportunity to see ourselves against one of the best Western Conference teams, despite their record."
The Cavs (13-7) are hunting its ninth successive win, while the Thunder (8-13) are going for their fourth in a row.