ATLANTA (Sporting Alert) — Al Horford scored on a putback with 1.9 seconds left to lift the Atlanta Hawks to a close 82-81 win over the Washington Wizard in Game 5 of their Eastern Conference semi-final series on Wednesday night.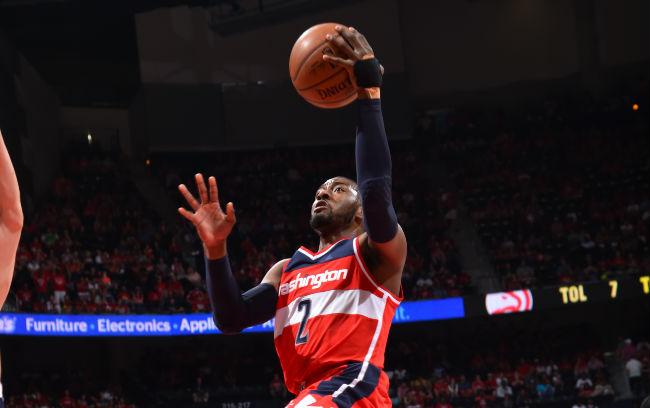 ATLANTA (Sporting Alert) — John Wall will try and play for the Washington Wizards in Game 5 of the Eastern Conference semi-final against the Atlanta Hawks on Wednesday.
Follow Live Coverage on TNT and TNT Overtime. Live GameCast on NBA.com
Wall has missed the last three games of the playoffs series with a hand and wrist problem, which reportedly has 5 fractures.
With the series locked at 2-2 and the Hawks picking up momentum in the series, ESPN is reporting that the point guard will test his status during warmups to see if he will be able to feature in Game 5.
Wall took part in some dribbling activities with his left hand during Tuesday's practice.
He said the swelling in his wrist has gone down, but is still feeling some discomfort.
Wednesday morning he went through shootaround and said the swelling "is actually doing a lot better," Ramona Shelburne reports on SportsCenter.
It is understood the 24-year-old, will be assess by team doctors before the game and if needed to, will reportedly take pain killing shots in order to play.
The Wizards are still reporting that his participation will be a "game-time decision."
If Wall misses his fourth successive game, then Ramon Sessions, who is averaging 14 points and five assists per game in the last three matches, will again start alongside Bradley Beal in the guard positions.
The Atlanta Hawks beat Washington 106-102 in Game 2 to even the series at 2-2, with Jeff Teague leading the way with 26 points, Paul Millsap scoring 19 and Al Horford added 18 points and 10 rebounds in the win.
Bradley Beal bagged 34 points to be the leading scorer for the Wizards, while Paul Pierce added 22.
"We were still right there and we didn't even play great," Beal said. "So you can be frustrated with (losing) but at the same time it's 2-2.
"It's the first to get two wins now."
Washington will look to Beal to lead the way in Game 5, with or without Wall, while the supporting cast of Pierce, Nene Hilario, Marcin Gortat, Otto Porter Jr. and Sessions will need to rally around him more.