CHAPEL HILL, N.C., Sporting Alert – Luke Maye scored 27 points and No. 13 North Carolina beat Michigan 86-71 on Wednesday night in the Big/ACC Challenge.
Maye, who struggled shooting the ball in the 63-45 loss to No. 3 Michigan State in the PK80 Invitational on Sunday, went 11 of 16 Wednesday night, while grabbing six rebounds and dished out three assists.
"I kind of wanted to bounce back from our game against Michigan State," said Maye, who had eight points on 3 of 13 shooting against the Spartans. "I think all of us did."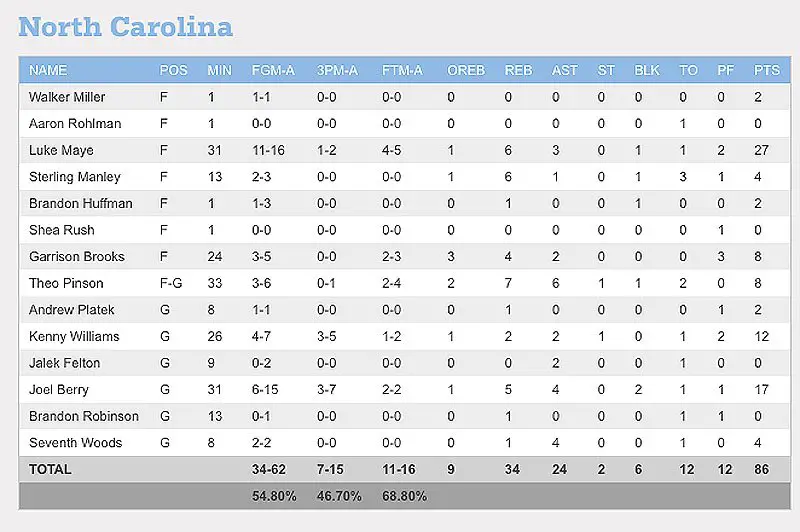 ---
Joel Berry II added 17 points with five rebounds and four assists, while Kenny Williams ended with 12 points for the Tar Heels (6-1), who led by as many as 21 points.
"We've had seasons where we've lost early and the rest of the season went well for us," Berry said. "So it's not time to panic, it's just time to get better and start buying into the system and understand what's going on."
Junior forward Moritz Wagner paced Michigan with 20 points on 9 of 13 shooting to go with nine rebounds, three assists and two steals.
Kentucky transfer Charles Matthews added 12 points in the defeat for the Wolverines (6-2).
Michigan trailed 34-32 with 6:46 to play in the first half, but North Carolina used a 17-5 run to open up a double-digit advantage and led 51-37 at halftime.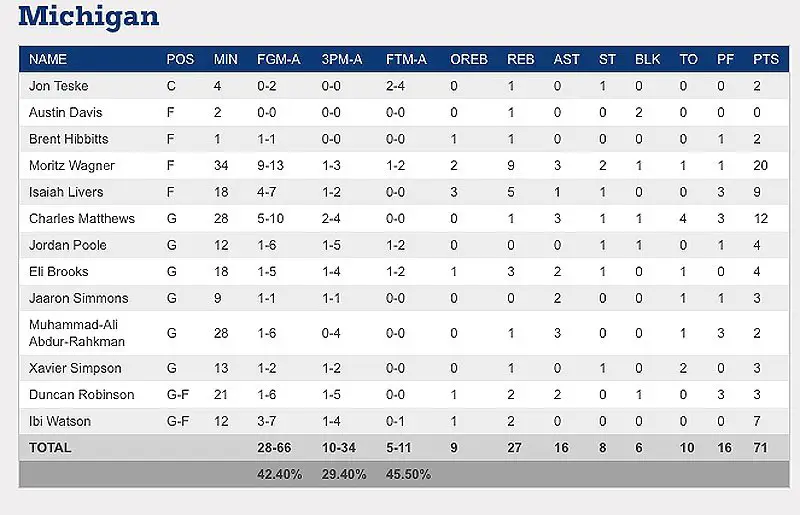 ---
The home side continued to dominate in the second half and used a 17-2 run to blow the game open, as the Wolverines struggled to make shots after the interval.
As a team, the Tar Heels shot 55 percent (34 of 62) and outrebounded the visitors 37-31.
"You've got to guard and rebound the ball," Wagner said. "We didn't do both of them in the first half really well, so if you put yourself in a hole like that the first half, it's really hard to come back."
Michigan started the game on a hot shooting streak after making 8 of 8 shot, but cooled off quickly and found it difficult to keep up with North Carolina.
They shot 42 percent (28 of 66) in the defeat and went 10 of 34 from 3-point range.
"I think North Carolina might be that good, and we're definitely not that bad," Michigan coach John Beilein said. "But we just certainly played bad, poorly today. We've just got to take it."
He note that his team "got what we deserved" after a flat first half display.
The Tar Heels travel to face Davidson in Charlotte on Friday.
The Wolverines, meanwhile, will entertain Indiana in their Big Ten opener Saturday.