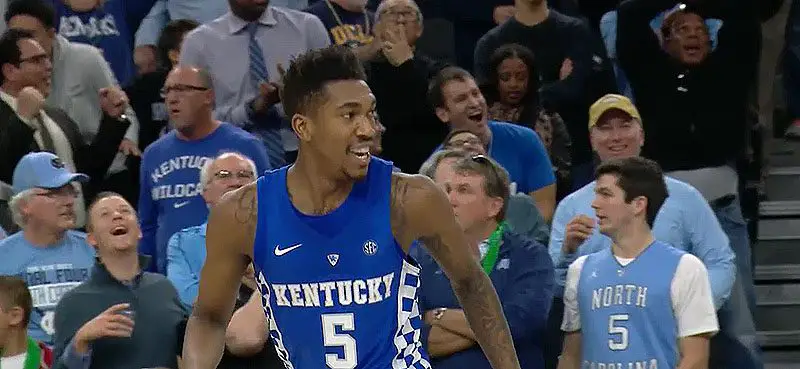 Monk pours in 47; Kentucky holds off North Carolina, 100-103
LAS VEGAS, Sporting Alert — Malik Monk poured in a career-high 47 points and made eight 3-pointers, and No. 6 Kentucky pulled off a thrilling 1003-100 victory over No. 7 North Carolina in the CBS Sports Classic on Saturday.
The freshman sensation put on a show for the gathering at T-Mobile Arena in Las Vegas – shooting 18 of 28 from the floor and 8 for 12 from long-range.
Monk's tally was also the highest by a Kentucky freshman in program history and he said he knew it would have been a special night after hitting the first couple of shots.
Fellow freshman De'Aaron Fox finished with a career-high as well after scoring 24 points to go along with 10 assists.
Edrice Adebayo ended with 13 points and seven rebounds before fouling out.
Justin Jackson scored a career-high 34 points to lead North Carolina, which made the game very interesting down the stretch after trailing for a big portion of the contest.
Joel Berry II returned from a sprained ankle injury to collect 23 points, seven assists and five rebounds for the Tar Heels (10-2).
After trailing for most of the game, North Carolina rallied to knot the score at 95-95 with 2:51 left with a pair of free throws from Tony Bradley.
However, Monk buried back-to-back 3-pointers in the final minute to seal the win as the Wildcats (10-1) picked up their third win in a row.
Kentucky led 56-51 at halftime with Monk accounting for 27 of the total on 10 of 16 shooting during the period.
Both teams matched each other with 44 points apiece in the paint, but the Wildcats won the rebound battle 39-35.
Kentucky shot 54 percent from the field and 56 percent from long-range.
North Carolina shot 53 percent from the field overall as well as from 3-pointers.
Kentucky will now travel to rival No. 11 Louisville for another difficult matchup on Wednesday.
North Carolina will entertain Northern Iowa on Wednesday as well.