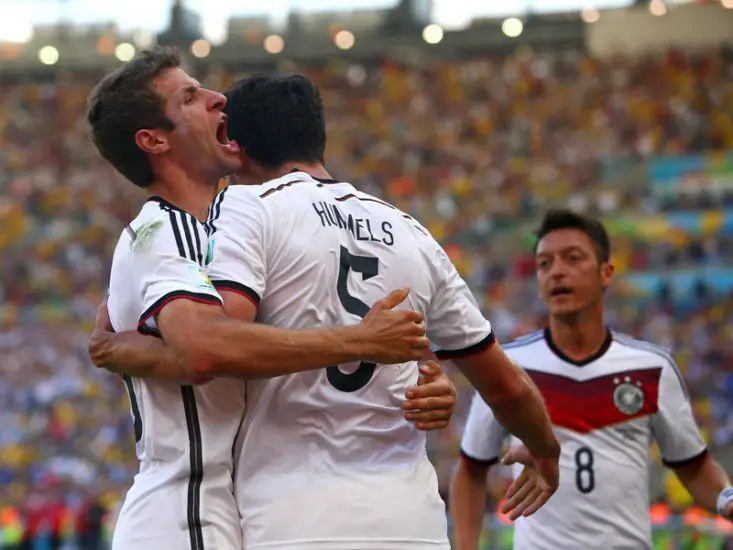 Muller Helps Germany Beat Hungary
GELSENKIRCHEN, Germany — A poacher's put back from Thomas Muller and an Adam Lang own goal lifted Germany to a 2-0 win over Hungary in its final warmup for Euro 2016 on Saturday.
The World Cup champions entered the game on the back of a dismal spell, which saw them losing 3-1 in a friendly clash against Slovakia in wet conditions in Augsburg last weekend.
However, head coach Joachim Low fielded a much strong side this time round, as he looked to work on a few things before the start of the European Championships this week.
After poking for much of the first half and coming up with near misses, Germany finally took the lead in the 39th minute when Lang stirred home a Jonas Hector's cross past his own goalkeeper with Mario Gotze putting pressure on the travelling defender.
The German players celebrated the goal with Gotze, thinking that the Bayern Munich forward was the one with the final touch, but even he knew he made no connections with the ball, which went in off the shin of Lang.
There was no mistake about who scored the second goal, though, as Bayern Munich forward Muller, back in the starting lineup today and played 68 minutes, converted a rebound at the far post in the 63rd minute, after substitute Mario Gomez's header was saved by Hungary goalkeeper Gabor Kiraly.
After tinkering with his lineup and resting several of his World Cup stars, Low started, arguably his best available starting XI, although leading defender Mats Hummels remains sidelined due to injury.
Germany opens the Euro 2016 tournament against Ukraine in Lille on June 12.
"We have a few things to work on for next week," said Loew. "The team wasn't so fresh. That will be different next week."
Besides Muller, Goetze, who played 78 minutes and Real Madrid holding midfielder Toni Kroos, both impressed for the world champions.
"It was a reasonable test," Kroos said. "We only allowed one good chance for Hungary in the first half. Altogether the performance was in order."
Hungary opens its Euro 2016 campaign against Austria in Bordeaux on 14 June.