NFL Week 3 Schedule, TV Channels, Streams, Times: Sept. 24
MIAMI, FL, Sporting Alert -- NFL Week 3 schedule, game times, TV channels and live stream on Sunday, September 24.
The week fixtures kicked off at Levi's Stadium on Thursday night with the Los Angeles Rams keeping the San Francisco 49ers winless this term with a 41-39 victory in Santa Clara, Calif.
After a two-day break, the action resumes today with 14 more games, including the clash at Wembley Stadium in London between the undefeated Baltimore Ravens and the Jacksonville Jaguars.
Nine of the allotted games on the Sunday list will kick-start at 1:00 pm ET, while there are nine undefeated teams still remaining in the league.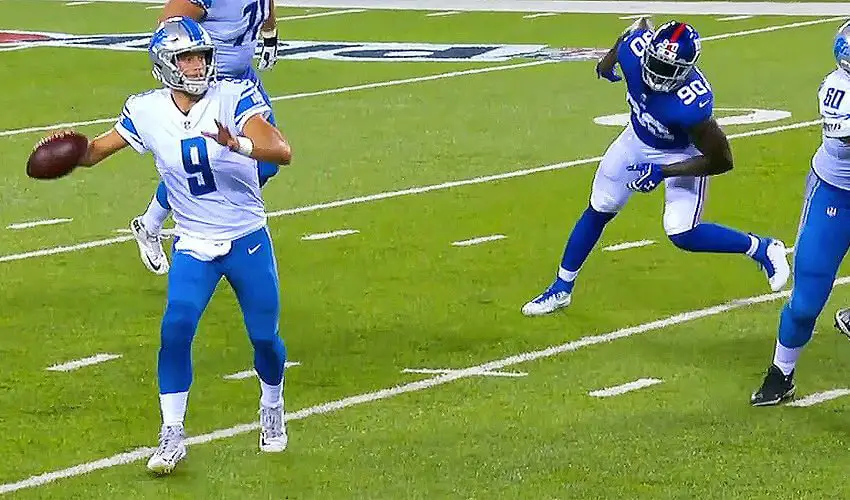 ---
However, at least one of those 100-percent records could come to an end in Week 3, as the Detroit Lions and the Atlanta Falcons - who are both 2-0 to start the new campaign - have a date together at Ford Field.
This match will be live on FOX and stream on FOX Sports GO, starting at 1:00 pm.
ESPN's Football Power Index is giving the Falcons a slight edge, at 50.6 percent to the Lions' 49 percent.
Meanwhile, the Denver Broncos, who impressively embarrassed the Dallas Cowboys last week, will take that form into their Week 3 battle against the Buffalo Bills at New Era Field in Buffalo, NY.
According to ESPN's Football Power Index, the Broncos have a 52.9 percent chance to win against the Bills, who have been given a 46.8 percent chance.
This game is live on CBS at 1:00 pm.
At Lucas Oil Stadium in Indianapolis, and also on CBS, the Indianapolis Colts will host the Cleveland Browns in the battle of the winless teams.
Both clubs have opened with 0-2 starts to the new term, but ESPN's Football Power Index is back Cleveland by 51.9 percent to end the poor start.
Heading into Sunday's game, the Browns will also try to win a road game for the first time in almost two years.
---
In the meantime, veteran quarterback Tom Brady leads the New England Patriots against the Houston Texans.
Both teams are 1-1 on the season, but ESPN's Football Power Index is backing Brady and Patriots heavily to run away with this one.
The game will see Houston's first-year quarterback Deshaun Watson trying to become the first rookie to beat a Bill Belichick-coached team as a traveling player.
Elsewhere on Sunday, the rolling Oakland Raiders will aim to improve to 3-0 in front of a large audience when they face-off against the Washington Redskins in Sunday Night Football.
NBC will provide the live television coverage from the FedEx Field in Landover, starting at 8:30 PM ET.
In other NFL games in Week 3, the Kansas City Chiefs (2-0) will battle with the Los Angeles Chargers in Carson, Calif, the New York Giants are a massive underdog against the Philadelphia Eagles at Lincoln Financial Field, while the Miami Dolphins travel to MetLife Stadium to face the New York Jets.
The other Florida team in the NFL, Tampa Bay Buccaneers, back in action following the after effect of Hurricane Irma, are in Minnesota to face the Vikings.
Monday Night Football pits the Cowboys up against the Arizona Cardinals at the Univeristy of Phoenix Stadium in Glendale.
NFL Week 3 Schedule on September 21-25
All Game Times are ET.
Thursday, September 21
Los Angeles Rams 41, San Francisco 49ers 39
Sunday, September 24
Baltimore Ravens at Jacksonville Jaguars @ 9:30 am AOL/Go90 / Tickets
Denver Broncos at Buffalo Bills @ 1:00 pm CBS
New Orleans Saints at Carolina Panthers @ 1:00 pm FOX and FOX Sports GO
Pittsburgh Steelers at Chicago Bears @ 1:00 pm CBS
Atlanta Falcons at Detroit Lions @ 1:00 pm FOX and FOX Sports GO
Cleveland Browns at Indianapolis Colts @ 1:00 pm CBS
Tam Bay Buccaneers at Minnesota Vikings @ 1:00 pm FOX and FOX Sports GO
Houston Texans at New England Patriots @ 1:00 pm CBS
Miami Dolphins at New York Jets @ 1:00 pm CBS
New York Giants at Philadelphia Eagles @ 1:00 pm FOX and FOX Sports GO
Seattle Seahawks at Tennessee Titans @ 4:05 pm FOX and FOX Sports GO
Bengals at Green Bay Packers @ 4:25 pm CBS
Kansas Chiefs at Los Angeles Chargers @ 4:25 pm CBS
Oakland Raiders at Washington Redskins @ 8:30 pm NBC and NBC Online Player
Monday, September 25
Dallas Cowboys at Carolina Cardinals @ 8:30 pm ESPN and WatchESPN
Si quieres conocer otros artículos parecidos a NFL Week 3 Schedule, TV Channels, Streams, Times: Sept. 24 puedes visitar la categoría Leads.