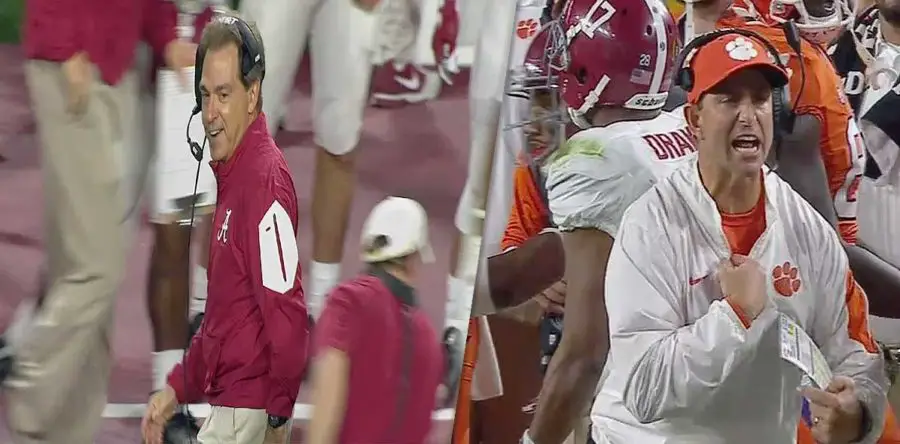 No. 1 Alabama v No. 2 Clemson ESPN3 coverage; Preview
TAMPA FL, Sporting Alert – The College Football Playoff Championship game between No. 1 Alabama and No. 2 Clemson will take place on Monday night and there are several ways to stream the game live on ESPN3.
The battle for the national championship is a repeat of last year title encounter which was won by the Crimson Tide in a thriller.
Kick-off time for the game is set for 8:00 pm ET and ESPN3 will provide five different angles to follow the live coverage. ESPN will broadcast the game nationally and WatchESPN will also provide another streaming platform.
An half-hour before kick-off, Skycam will begin so viewers will be able to watch the players doing warmups and go through several routines in preparation for the matchup.
Data Center, as well as live radio streaming coverages from two different perspectives – Clemson and Alabama Radio – will also be available.
ALABAMA V CLEMSON: THE GAME
Alabama (14-0) enters the contest undefeated this season, having won all 14 of its games on the term.
The Crimson Tide rolled past No. 4 Washington 24-7 in the Chick-fil-A Peach Bowl College Football Playoffs semifinal game.
Clemson (13-1) dropped one game this season but has since recovered to win four straight and looks like a definite threat to block the Crimson Tide's push to win back-to-back national crowns.
WATSON STARRED, TIDE WON
A year ago at the University of Phoenix Stadium in Arizona, Alabama defeated Clemson 45-40 to claim its fourth national title in the past seven seasons.
Tigers quarterback Deshaun Watson, who passed for 405 yards and four touchdowns, was the standout player that night, despite his team suffering a defeat and the junior, who will graduate this spring, will be hoping for a similar performance with a better outcome on Monday night.
If Watson and Clemson are able to take down the Tide in the title matchup, they would end the 26-game overall winning streak of Nick Saban's men.
WHO WILL WIN? WATCH TIDE OFFENSE
But according to ESPN's Football Power Index, the Tiger will have to do it as the underdogs with Alabama favoured to win the game by 60.4 percent.
Meanwhile, the defending champion heads into the game without former offensive coordinator Lane Kiffin, who was reportedly axed by Saban before the championship game so he can concentrate more on his new head coaching role at Florida Atlantic.
With Kiffin out, Steve Sarkisian will now call the plays on offense and Crimson Tide junior center Bradley Bozeman believes nothing will change.
"A lot of people make it seem like it's the end of the world, that the whole process has been derailed," said Bozeman.
"But (Sarkisian) has been out there the whole time. He's already been influential in our offense and knows our offense inside and out."
Clemson, who cruised past No. 3 Ohio State in a 31-0 shutout in the other College Football Playoff semifinal game, will look to Watson, who has passed for 4,173 yards and 38 touchdowns to lead the attack.
Also on the watchlist are running back Wayne Gallman, who has 214 carries for 1,087 yards and 16 TDs, as well as receiver Mike Williams with 90 catches for 1,267 yards and 10 TDs.
PLAYER LEADING STATS
PASSING LEADERS
CLEMSON
Deshaun Watson
352-523, 4173 YDS, 38 TD, 17 INT
ALABAMA
Jalen Hurts
227-351, 2649 YDS, 22 TD, 9 INT
RUSHING YARDS
CLEMSON
Wayne Gallman
214 CAR, 1087 YDS, 16 TD
ALABAMA
Damien Harris
140 CAR, 1016 YDS, 2 TD
RECEIVING YARDS
CLEMSON
Mike Williams
90 REC, 1267 YDS, 10 TD
ALABAMA
Ardarius Stewart
52 REC, 852 YDS, 8 TD