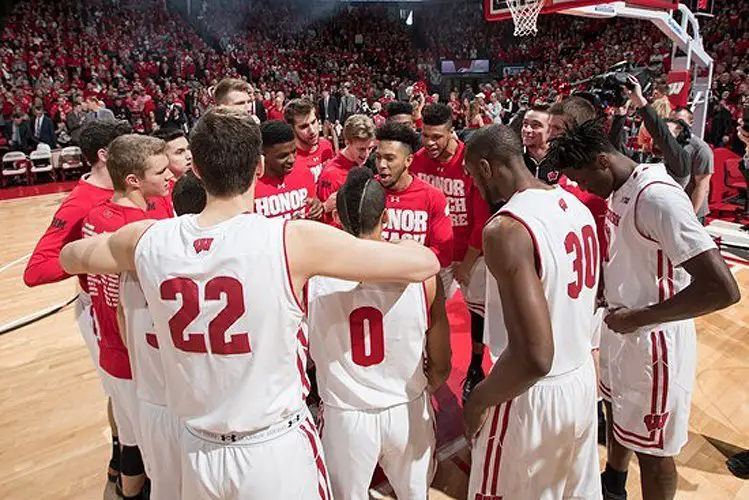 No. 11 Wisconsin Rallies To Beat No. 23 Maryland 71-60
MADISON, Wis. — Nigel Hayes scored 14 of his 21 points in the second half and also grabbed 10 rebounds and No. 11 Wisconsin rallied to beat No. 23 Maryland 71-60 in a Big 10 battle at Kohl Center on Sunday.
Hayes shot 6-of-15 overall, but was 4-of-8 in the second half and collected eight of his total rebounds after halftime.
Ethan Happ added 20 points on 7-of-11 shooting and pulled down seven rebounds for the Badgers (22-5, 11-3), who trailed 33-27 at halftime before outscoring Maryland 44-27 in the second half.
"Those guys just dominated," said Maryland coach Mark Turgeon about Hayes and Happ. "We couldn't guard them heads-up. We couldn't guard them in a double-team."
He added: "They were good. They were terrific. We couldn't guard them. They were great."
Melo Trimble led the Terrapins with 27 points, which included four 3-pointers before he was pulled from the contest with his team trailing by 12 with 4:32 left.
"He was tired," Turgeon said about pulling Trimble. "He was carrying us. He missed two free throws, he never misses.
"He was tired. If we would have made a little run, I would have put him back in, but we got four games in 10 days. Wisconsin was dominating the game."
The junior guard also grabbed five rebounds and dished out three assists in the defeat.
Michal Cekovsky finished with 10 points and two blocks for Maryland (22-5, 10-4), which had its two-game win streak snapped.
As a team, Wisconsin, which snapped a two-game losing streak, shot 41.4 percent (24-of-58) from the floor, but went just 2-for-12 from 3-point range.
Maryland was 19-of-45 from the floor for 42.2 percent in the defeat.
Both teams combined for 48 fouls.
"In regards to the game, extremely physical," Wisconsin coach Greg Gard said.
"We may have run the training room out of ice after the game. But our guys, specifically in the second half, stepped up and answered the bell, so to speak.
"We were much better in the paint, obviously got to the free throw line a bunch, tried to convert more of those opportunities into more points, and also only one turnover in the second half, so that was more like how this team is.