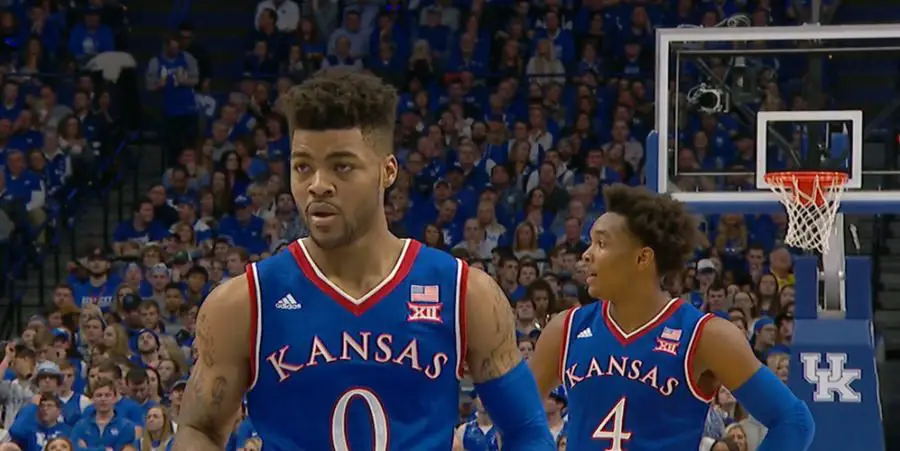 No. 4 Baylor v No. 3 Kansas: Big 12 Battle, Live TV Channel, GameCast
WACO, TX — No. 3 Kansas and No. 4 Baylor will battle in a crucial Big 12 matchup at Ferrell Center here in Waco, Texas, on Saturday afternoon. Tip-off time for this one is scheduled for 1:00 p.m. ET and it will be televised live on CBS.
HOW TO WATCH, LISTEN AND FOLLOW LIVE
Watch | Gametracker | Listen Online | TuneIn Ap
Kansas (23-3, 11-2 Big 12) enters this road game as the leader of the Big 12 and holds a two-game cushion over Baylor in the conference standings.
The Jayhawks beat the Bears 73-68 in Lawrence earlier this month and head into the rematch with added confidence after a thrilling comeback saw them erasing a late 14 point deficit to stun No. 9 West Virginia 84-80 in overtime on Monday night.
Baylor (22-4, 9-4 Big 12), meanwhile, is coming off a disappointing 84-78 defeat to Texas Tech on Monday night and will be hoping to bounce back with a quality win over its conference rivals.
Since losing to Kansas on Feb. 1, the Bears are 2-3 and have struggled somewhat on offense, especially in the opening sections of games.
Leading contributor Johnathan Motley struggled in the defeat to Texas Tech earlier this week and it showed why he's been regarded as the "heart and soul" for the Bears this term.
Point guard Manu Lecomte, who fouled out of the game with over eight minutes to go is also a vital figure for Baylor and the pair will be aiming to shake off the last outing and deliver a win at home against Kansas.
Entering this game, Kansas has won three straight and five of the last six games, and it is being led by senior guard Frank Mason III, who is scoring 20.2 points per game.
Freshman Josh Jackson is averaging 16.5 points and 7.2 rebounds and has recorded a double-double in five of his past six games and nine overall this season.
Devonte' Graham is scoring 13.2 points and Sviatoslav Mykhailiuk is putting out 10.5 per game this season for the Jayhawks.
Baylor is led by Motley, who is averaging 16.7 points and 9.5 rebounds per contest this term.
Lecomte is the only other Baylor player scoring in double-digit this campaign, as he's averaging 12.8 points.
The Bears are two-point favourites to beat Kansas, but the Jayhawks will be determined to take care of business on the road and move closer to sealing yet another Big 12 regular season title.