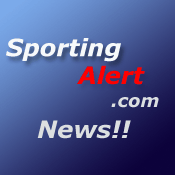 Game Stats: Pac-12 Championship Game: Oregon v Arizona
SANTA CLARA, Calif. (Sporting Alert) — No. 2 Oregon and No. 7 Arizona will meet in the 2014 Pac-12 Championship game on Friday night at Levi's Stadium in Santa Clara, Calif.
TV CHANNELS, LIVE STATS AND BOX SCORE INFO
Game Time: 9:00 PM ET
National Television: FOX will stream live coverage of the game with Tim Brando (pxp), Joel Klatt (analyst) and Jenny Taft (reporter) doing the call.
The Radio Coverage: Oregon IMG with Jerry Allen (pxp) & Mike Jorgensen (analyst).
National Radio: Bill Rosinski (pxp), David Norrie (analyst), Joe Schad (reporter).
Satellite Radio: Sirius 83, XM 83.
Live Box Scores and Stats Will Be Here
The Ducks (11-1, 8-1 Pac-12) come into the contest looking to stay in contention for a College Football Playoff spot and they know that a win over Arizona (10-2, 7-2 Pac-12) will seal that top four ticket.
At the same time, Oregon, who is on a seven-game win streak, is also well aware that it dropped the last two meeting against the Wildcats, including the 31-24 defeat to their then-unranked opponents at Autzen Stadium.
"We're just going to play our game," Oregon quarterback Marcus Mariota, who threw for 276 yards and two touchdowns, but was stripped by Scooby Wright in the closing minutes of the defeat on Oct. 2.
"Arizona did a great job setting and dictating tempo in the last meeting.
"If we go out and execute to the best of our abilities and execute the game plans that are put in front of us, we should hopefully be successful," added Mariota, who is seeking his first conference title.
Mariota also crediting Wright on his play.
"It was a good play by him, honestly," Mariota said at the time.
He also noted: "It's obviously a testament to our conference. If you're not prepared each week, if you're not ready to play, you'll lose."
Arizona collected a 42-35 victory over Arizona State last weekend, with quarterback Anu Solomon, after a slow start finishing with 15 of 21 passes and threw for 208 yards and a pair of touchdowns.
The redshirt freshman is excited about playing in his first conference title game — labelling this game as his biggest thus far.
"It is definitely the biggest game I've played," Solomon revealed. "We have come a long way and we have worked very hard for this."
Despite losing its past two meetings, Oregon leads the all-time series 24-16 and has won 16 of the last 21 clashes between the two sides.
Mariota comes into the game looking to add to his Pac-12 single season and career records for total touchdowns.
He currently has 48 touchdowns for the season — with 36 passing, 11 rushing, 1 receiving.