Playoff Scores and Results, Box Score, Highlights – April 21
MIAMI (Sporting Alert) — Defending champions Miami Heat began the defense of the NBA title with a comfortable win, while there were playoff wins also for Oklahoma City Thunder and the San Antonio Spurs.
In Miami, LeBron James scored 27 points, 10 rebounds and eight assists for the Heat to beat the Milwaukee Bucks 110-87 at AmericanAirlines Arena.
Ray Allen added 20 points and five rebounds, while Dwyane Wade ended with 16 points and Chris Bosh, 15 points and seven boards in the victory.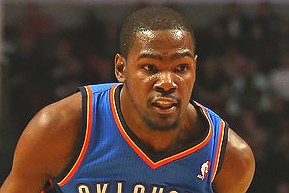 Brandon Jennings and Monta Ellis combined to score 48 of the Bucks' 87 overall points.
Jennings finished with 26 points and Ellis ended with 22 in the defeat.
"I think we played good basketball in stretches," Ellis said. "They're a great team. They capitalized on our mistakes.
"I think they were more aggressive towards the end. In the third and fourth, they never looked back."
Game 2 in the series is on Tuesday in Miami again.
Also putting down a solid performance were the Oklahoma City Thunder, who defeated James Harden and the Houston Rockets 120-91.
After sitting out the final game of the regular season, Kevin Durant returned to the starting lineup to score 24 points for the Thunder, while Russell Westbrook added 19 points, 10 assists and eight rebounds.
Durant said about Harden, "we're not looking at him as a friend right now."
He added: "It felt a little awkward just looking across there during the national anthem and seeing him with another team, but we've got to get past that.
"We're competing against his team, and he wants to win so bad. We know him personally, so we know how hard he competes and he knows how hard we compete."
Harden led the Rockets with 20 points and six rebounds, but the visitors struggled from the floor, going 33-of-91 in the shooting department.
Elsewhere on Sunday, the San Antonio Spurs eased past the Los Angeles Lakers 91-79 with Manu Ginobili and Tony Parker both scoring 18 points for the home side.
"It was great to have Manu back," said Spurs coach Gregg Popovich. "He does what he does. He makes big shots.
"He creates problems for the opponent and he's got a great will, a great desire.
"I'll worry all night about how he'll feel in the morning. If he says he feels great, then that will be a good sign for our team."
Tim Duncan collected a double-double of 17 points and 10 rebounds in the win.
Lakers, in the meantime, without the injured Kobe Bryant, were paced by Dwight Howard, who had 20 points and 15 rebounds in the defeat.
Pau Gasol also collected a double-double of 16 points and 16 boards, while Steve Nash, returning to the lineup added 16 points as well.
In the day's early tip-off, Paul George collected a triple-double of 23 points, 12 assists and 11 rebounds and the Indiana Pacers beat the Atlanta Hawks 107-90 at the Bankers Life Fieldhouse.
Jeff Teague led the Hawks with 21 points in the defeat.
NBA Playoff Results and Scores
Sunday, April 21
Indiana 107, Atlanta 90 – Box Score  |  Highlights
San Antonio 91, LA Lakers 79 – Box Score  |  Highlights
Miami 110, Milwaukee 87 – Box Score  |   Highlights
Oklahoma City 120, Houston 91 – Box Score  |  Highlights