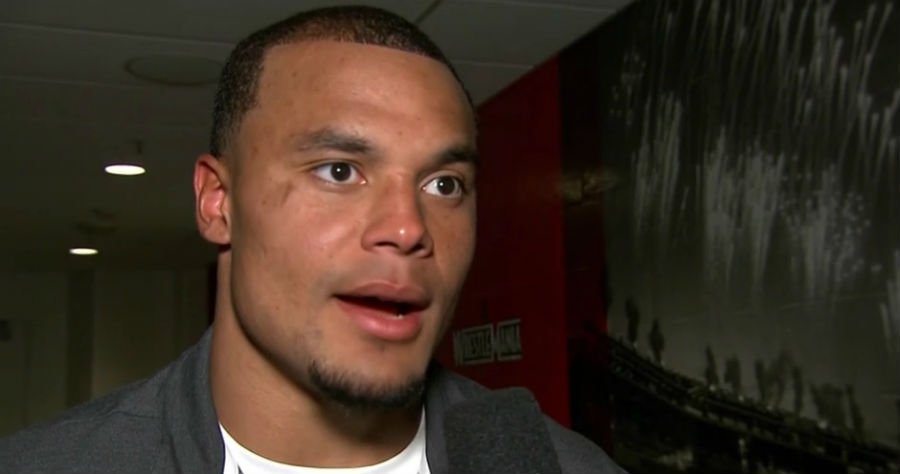 Prescott, Elliott The New Faces Of Dallas Cowboys?
DALLAS, Sporting Alert – The Dallas Cowboys beat the Green Bay Packers in the NFL on Sunday for their fifth win in a row, but what does the future holds for rookie quarterback Dak Prescott.
Prior to the kick-off on Sunday, the experts and pundits barely gave Dallas (1-5) a look and predicted that Prescott would have struggled against Green Bay's defense.
However, the inform quarterback overcame all doubts to deliver yet another impressive performance at the historic Lambeau Field in the 30-16 win over the Packers.
Prescott went 18 of 27 for 247 yards and three touchdowns and bounced off two fumbles and an interception for the Dallas Cowboys in the win.
STILL NOT YOURS DAK
Despite his performances this season so far, though, Prescott is still not guaranteed the starting place at the QB position when the injured Tony Romo returns.
In fact, Dallas Cowboys owner Jerry Jones still insists Romo will be the club's starting quarterback when he returns to full fitness.
"Tony is our No. 1 quarterback," Jones said. "We're going to have the luxury of being able to, I think, see them both.
"I don't want to presume that Dak is going to be necessarily healthy, I don't want to presume anything like that.
"But I welcome the opportunity of having Dak playing at this level and Tony back in excellent health. It's going to be really special for the Cowboys."
ELLIOTT SETTING RECORD
Meanwhile, according to Elias Sports Bureau, running back Ezekiel Elliott is the first rookie to have 4 straight 130-yard rushing games.
Elliott carried the ball 28 times and finished Sunday's game with 157 yards.
The former Ohio State Buckeyes standout achieved his feat against a Green Bay Packers defense that had not allowed a runner to gain more than 39 yards this season.
This is rather impressive.
With the immediate rise of both Elliott and Prescott, Jones can't help but to admit that they have become the new faces of the Dallas Cowboys.
Will the insertion of Romo break the flow should be returns after Dallas' bye week against the Philadelphia Eagles on Oct. 30?