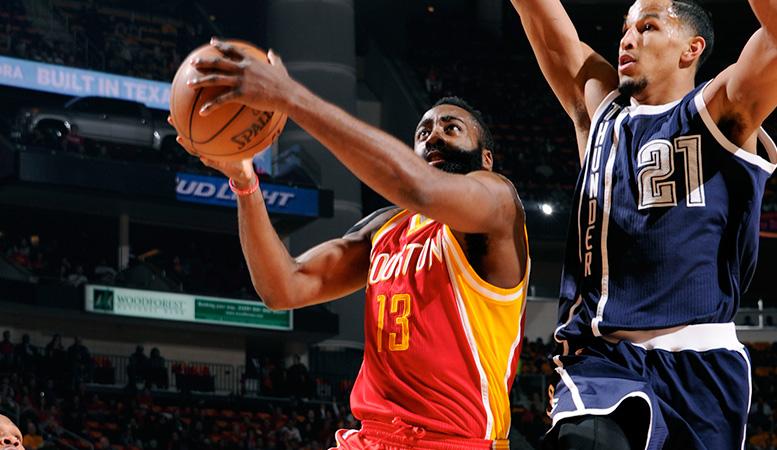 HOUSTON (Sporting Alert, Box Score) — James scored 31 points and led five other teammates into double-digit scoring and the Houston Rockets defeated the Oklahoma City Thunder 112-101 at Toyota Center here in Houston on Thursday night.
The Rockets (28-12) knocked down a series of shots early on its way to scoring a season-high 40 points for the first quarter to help set up the victory, the Thunder failed to recover from an early 22 point deficit.
Harden, who leads the NBA in scoring, was 9-of-15 from the field and he hit six 3-pointers in his tally, while dishing out 10 assists and nine rebounds in the win for Houston, which improved to 14-6 at home this season.
Trevor Ariza added 17 points, Donatas Motiejunas finished with 14, while Dwight Howard, Patrick Beverley and Kostas Papanikolaou all collected 13 points in the victory for the Rockets.
Kevin Durant led Oklahoma City (18-20) with 24 points, 10 rebounds and three blocks, while Russell Westbrook had 16 points, eight assists, eight rebounds and five steals in the defeat.
However, Westbrook, who struggled in the early goings to get shots, had eight of his team's 17 turnovers on the night.
Reggie Jackson and newcomer Dion Waiters also contributed 16 points off the bench as well, with Serge Ibaka grabbing 13 points and seven rebounds for the Thunder, who fell two games below .500.
Oklahoma City trailed 40-18 at the end of the opening quarter, but outscored Houston 35-24 in the second quarter to close the gap and go into the halftime break 64-53 behind.
The Rockets shot 47.7 percent from field on 41-of-86 shooting and 44.4 percent from three-point range (16-36).
After long break off the court, the Thunder returns to action again on Friday night at home against Western Conference leaders and the team with the best NBA record this season, Golden State.
Houston Rockets, which bounced back from the loss to Orlando Magic on Wednesday night, will entertain the Warriors on Saturday night.