Scores, Results, Records and NBA Standings on Jan. 29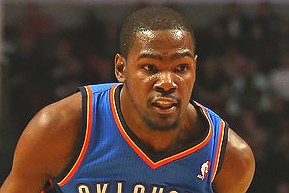 MIAMI, FL (Sporting Alert) — The following are the NBA standings, as well as the records and NBA scores and results from the games that took place on Wednesday night.
In the marque game of the night, Kevin Durant scored 33 points and seven rebounds and Serge Ibaka added 22 points and eight boards and the Oklahoma City Thunder beat the Miami Heat, 112-95 at AmericanAirlines Arena.
Jeremy Lamb finished with 18 points, hitting 4 of 6 from three pointer, while veteran guard Derek Fisher went a perfect 5 of 5 from long range to scored 15 points in the win for the Thunder, who have now won nine straight games.
LeBron James led the Heat with 34 points, while Chris Bosh added 18 points and Dwyane Wade, 15.
The Heat jumped out to a fast start and even led by as many as 16 points in the first quarter, as after scoring the opening two points, the Thunder failed to connect again until Miami took an 18-2 lead.
However, the hosts failed to take advantage of the positive start, following a series of poor turnovers, and crumbled to the defeat.
Durant tied the game with a layup with 3:15 left in the second quarter, before knocking down a 25-foot three point jumper to give the Thunder a 49-46 lead with less then two-minutes to go in the first half.
Oklahoma City led there after and went on to win easily.
In NBA scores, Jimmy Butler scored 19 points and Carlos Boozer added 16 points and 12 rebounds and the Chicago Bulls handed the San Antonio Spurs their third straight loss, following the 96-86 result.
Point guard Tony Parker had 20 points and Tim Duncan had 17 points and 12 rebounds for San Antonio in the defeat.
Gregg Popovich was without Manu Ginobili, Danny Green, Kawhi Leonard, Tiago Splitter, who were all missing because of injuries.
Elsewhere, the Memphis Grizzlies continued their impressive recent run with another victory after beating the Sacramento Kings 99-89, with point guard Mike Conley leading the way with 27 points and 10 assists.
The Grizzlies were winning their fourth straight.
NBA Scores, Results, Records on Jan. 29
Oklahoma City Thunder 112 (37-10), Miami Heat 95 (32-13)
Los Angeles Clippers 110 (33-15), Washington Wizards 103 (22-23)
Chicago Bulls 96 (23-22), San Antonio Spurs 86 (33-13)
Houston Rockets 117 (31-17), Dallas Mavericks 115 (26-21)
Phoenix Suns 127 (27-18), Milwaukee Bucks 117 (8-37)
Phoenix Suns 126 (27-18), Milwaukee Bucks 117 (8-37)
Toronto Raptors 98 (24-21), Orlando Magic 83 (12-35)
Minnesota Timberwolves 88 (23-22), New Orleans Pelicans 77 (19-26)
Memphis Grizzlies 99 (24-20), Sacramento Kings 89 (15-30)
Charlotte Bobcats 101 (20-27), Denver Nuggets 98 (22-22)
Philadelphia 76ers 95 (15-31), Boston Celtics 94 (15-33)