KINGSTON, Jamaica (Sporting Alert) — Akeem Bloomfield of Kingston College promised and then delivered after he became the first Jamaican high schooler to run sub-45 seconds at the Boys and Girls Championships at the National Stadium in Kingston on Saturday.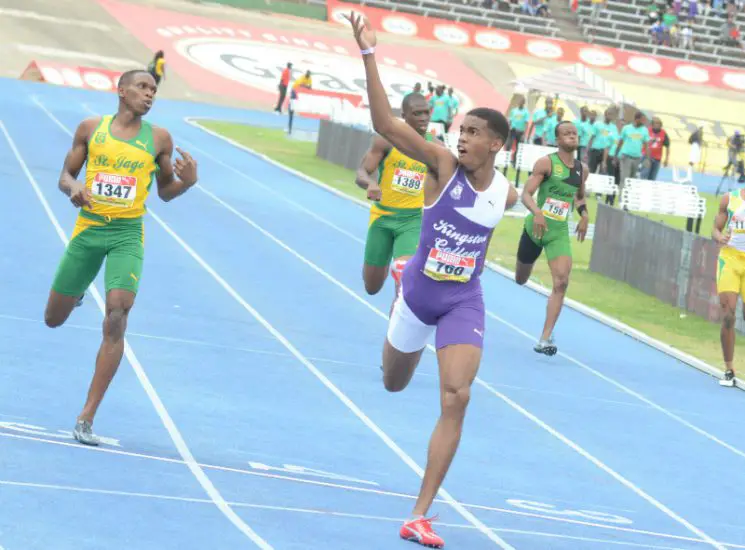 Bloomfield blazed the track and crossed the finish line in a stunning 44.93 seconds — breaking the one year old mark of Javon Francis, who ran 45 seconds flat to win the event for Calabar last year.
The 17-year-old, who turns 18 in October came into Champs 2015 with a personal best of 45.41secs. His achievement broke the Jamaica National Junior Record of 45.21, which was previously held by Davian Clarke.
"I am a little surprised," Bloomfield said when asked if he had predicted such a fast time coming into these championships. "I wasn't expecting this."
Nathon Allen of  St. Jago High clocked a very impressive 45.30 personal best for second place, while the bronze medal was picked up by another Jago runner, Martin Manley, who posted 46.41.
Bloomfield rushed off to a very fast start and blasted down the backstretch in an attempt to "put pressure on everyone" else in the field.
Allen went with him and came close to pulling up on his shoulders in the last 60m.
However, Bloomfield had too much left in the tank going home and the KC star held his form and pulled away over the last metres to seal a well deserved gold medal.
"I ran a fast first 250m and when I was coming home I realized I had a lot more to give," he admitted.
Twayne Crooks of Kingston College ran 46.54 for fourth place with Renado Wilson running 47.11 to earn sixth place and picked up three points for leaders Calabar High.
After previously running the 100m and 200m shorter sprints, Bloomfield moved up to run the 400m and judging by the results, it is now evident that the move was the right decision.
Meanwhile, world 100m and 200m record holder Usain Bolt, who stepped down from running the quarter-mile after his junior year to concentrate on the 100m/200 races, described Bloomfield's performance as amazing.
Bolt, a former Champs superstar took his seat close to the finishing line.
Yohan Blake, the World Championships 2011 gold medallist over 100m and the Olympic double silver medallist for the 100/200, was also stunned by the time posted by young Bloomfield, who recovered from the injury that kept him out last year.