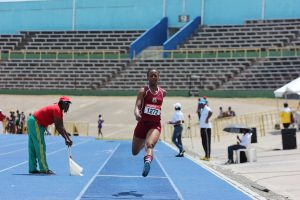 KINGSTON, Jamaica (Sporting Alert) — Tamara Moncrieffe of Holmwood Technical produced a quality 13.92m to win the girls open Triple Jump, but she was assisted by a strong +6.8 m/s tailwind.
At the same time, though, the defending champion, who narrowly missed the record of 13.52m, set by Kimberly Williams at the 2007 championships, successfully shattered that old mark this season after she leaped 13.63m in her first jump of the competition final in the morning.
It took several minutes for the event officials to confirmed the new record.
Moncrieffe's achievement was the fourth record set at Champs this year, after Edwin Allen's Class 4 girls' 46.90 seconds mark in the 4×100 relay and Calabar's Lamar Reid and Shakiel Chattoo in the Class 3 boys High Jump and the decathlon open for boys, respectively.
Shardia Lawrence of Hydel High took the silver medal with a slightly wind-assisted 13.14m and Shanique Wright of Manchester High got the bronze with a leap of 12.92m (+3.0 m/s).
Ayesha Champagnie of St. Andrew Tech improved one place to the gold this year in the girls Javelin Throw open after she dominated the event on Friday.
Champagnie, who threw 42.64m for second place last year, produced a big throw of 47.73m for the gold medal this term and was just centimetres behind the 47.85m event record, which was set in 2007 by Tanesha Blair.
Finishing a distant second was Edwin Allen's Paul-Ann Gayle with 41.29m, with the bronze going to Sahjay Stevens of St. Elizabeth, at 39.51m.
So after eight finals, Edwin Allen High continue to lead, but the gap is now significantly smaller.
The defending champions are currently sitting first with 60 points, but Hydel High has closed the gap to six points and are on 54 points in second place.
Holmwood Technical High are third with 34 points, followed by St. Jago High with 27.33 in fourth with Excelsior High sitting fifth with 15.