Teague Hits 26pts, Hawks Hold On For 106-101 Win In Game 4 Over Wizards
WASHINGTON, DC (Sporting Alert) -- Jeff Teague scored 26 points and dished out eight assists and the Atlanta Hawks beat the Washington Wizards 106-101 in Game 4 of the Western Conference semis on Monday night.
The @ATLHawks win 106-101 and the series is TIED at 2-2! Jeff Teague goes for 26 pts & 8 asts in a crucial Game 4 win pic.twitter.com/AcsyAJcUaL

— NBA (@NBA) May 12, 2015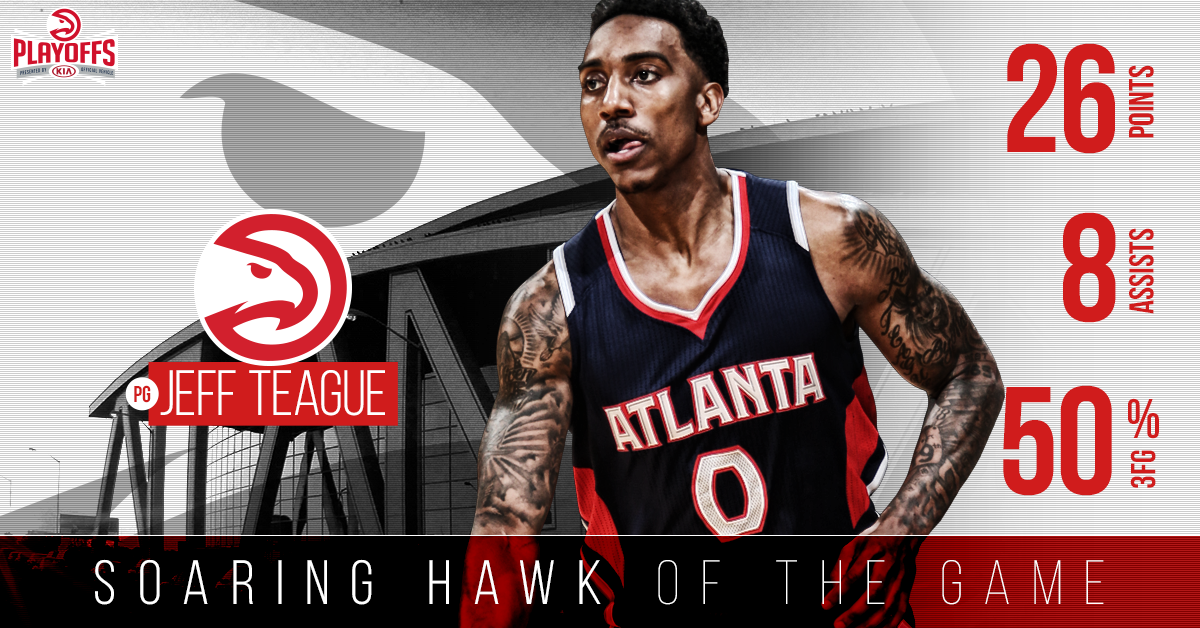 Teague was well supported by Paul Millsap, who added 19 points, six assists, five rebounds and two steals, while Al Hortford finished with 18 points and 10 rebounds for the Hawks, who tied the series 2-2 with the win.
"The mentality of our group coming out to start the game," Atlanta coach Mike Budenholzer said.
"...we've got to find a way to do that for more of the 48 (minutes)."
Bradley Beal exploded for 34 points on 11-of-25 shooting to lead the way for Washington. He also had seven assists, six rebounds and three steals in the defeat.
Paul Pierce, who opened with 5-for-5 from three-point range before missing his last two, including a potietial game tying attempt in the final seconds of the fourth quarter, ended with 22 points.
"Sometimes you make it sometimes you miss it, but we're not going to put our head down, I'm not going to dwell on it," Pierce said.
Ramon Sessions contributed 13 points and Nene Hilario ended with 12 points and seven board for the Wizards, who was 44.7 percent in shooting from the field.
Dennis Schroder scored 14 points and eight assists for the Hawks, who led 65-55 at halftime and shot 47.1 percent from the floor as a team overall.
Halftime by the numbers #WizHawks #dcRising pic.twitter.com/FxJ605o0Wr — #dcRising (@WashWizards) May 12, 2015
------------------------Game Recap, Reporting by Barbara Sampson --------------------------
----END
WASHINGTON (Sporting Alert) -- Paul Millsap, Jeff Teague and Al Horford all scored in double figures and the Hawks lead the Wizards 65-55 at halftime in Game 4 of their Eastern Conference semis clash.
Millsap, who shot 6-of-10 from the field, has 15 points, six assists and two steals, while Teague has so far scored 12 points and five assists and Horford has put in a 10 point and six rebounds performance thus far.
Atlanta is shooting an impressive 59.1 percent on 26-of-44 shooting from the floor as a team, while going 5-of-9 from three-point range.
Bradley Beal so far has 15 points and seven assists to be leading the way for the Wizards. He is also gone 3-of-5 from long range.
Also contributing heavily in the first half for Washington, is Paul Pierce, who is 4-for-4 from behind the arc and has 14 points.
The Wizards are shooting 66.7 percent on 10-for-15 from 3-pointers. The Atlanta Hawks dominated the action in the paint after outscoring the home side 32-16 in the area.
End of 3 from Verizon Center, #Wizards 75 - #Hawks 85 Pierce 22p (5/5 3p) Beal 21p (4/8 3p) #WizHawks #dcRising pic.twitter.com/IjDG0KflxS — #dcRising (@WashWizards) May 12, 2015
Paul's sweet drive and dish is eye candy: https://t.co/3cR7j0X6Tq — Atlanta Hawks (@ATLHawks) May 11, 2015
Si quieres conocer otros artículos parecidos a Teague Hits 26pts, Hawks Hold On For 106-101 Win In Game 4 Over Wizards puedes visitar la categoría Leads.