UPDATED: NBA Playoff Scores- Wins For Hawks, Grizzlies
ATLANTA (Sporting Alert) - The Atlanta Hawks and the Memphis Grizzlies picked up battling respective Game 5 victories in the NBA playoffs on Wednesday night, but C.J. McCollum's career game ends in loss.
Final Score: Atlanta 107, Brooklyn 97
The Atlanta Hawks raced off to a fast start and then held off the battling Brooklyn Nets 107-97 in Game 5 of their Eastern Conference quarterfinals series on Wednesday night.
The victory saw the home side taking a 3-2 lead heading into Game 6 in Brooklyn on Friday night.
Atlanta, which outscored the Nets 42-32 in the paint, shot 48.2 percent from the floor on 40-of-83 shooting, while winning the battle on the rebound column, 43-35.
DeMarre Carroll paced the Hawks with 24 points, include scoring 19 in the first half, while grabbing seven rebounds, three assists and two steals at the Philips Arena.
"It's the playoffs," said Carroll. "You don't have injuries in the playoffs."
Al Horford and Jeff Teague each scored 20 points, with the former also pulling down 15 rebounds and the latter finishing with eight assists in the win for Atlanta, which also collected 17 points from Kyle Korver.
"The playoffs are a new season," said Horford. "You never underestimate any team."
Alan Anderson, who shot 9-of-11 from the field and knocked down all four of his three-pointers, ended the night with 23 points and seven boards off the bench for the Brooklyn Nets, who shot 47.4 percent from the field and 45.5 from three-point range.
Joe Johnson contributed 18 points and nine rebounds, Jarrett Jack added 18 points and six assists in a reserve role and Brook Lopez, who played 39-minutes, chipped in with 15 points and three blocks in the defeat for Brooklyn, which went down to an early 17-point deficit and almost pulled off the stunning comeback.
"Heck of a basketball game," Nets coach Lionel Hollins said. "I'm proud of our guys how we fought & scratched to get back in the game."
"They knocked us back in the beginning, but we fought back."
Hollins admits that star center Lopez, who was played the second highest minutes among his teammates, was on the court longer than what he planned for the big man.
"We just couldn't afford to sub with another big man," the former Memphis coach noted. "Being behind like that changed everything."
The Hawks led 53-44 at halftime.
Final Score:  Portland 93,  Memphis 99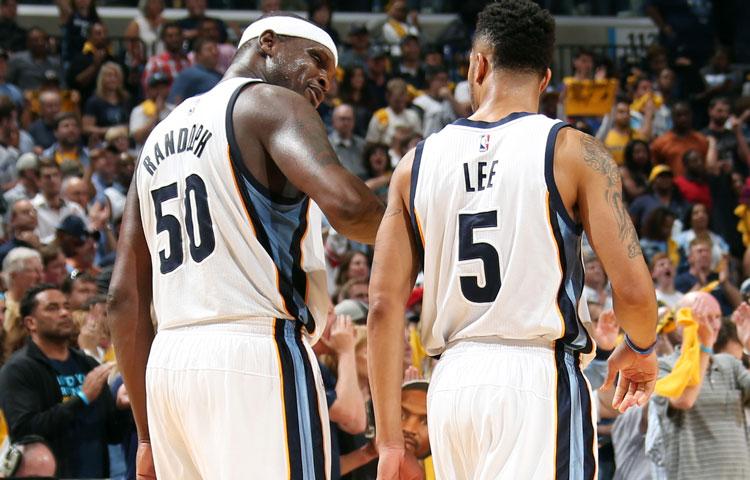 In the night's other game, Marc Gasol, Courtney Lee and Zach Randolph all scored in double digits and Memphis Grizzlies eliminated the Portland Trail Blazers from the playoffs after picking up a 99-93 victory in Game 5.
It had setup to be a very difficult night for Portland, who has lost its past five Game 5s, and the visitors failed to past the test.
The Grizzlies won the series 4-1 and move on to the face the No. 1 seed Golden State Warriors, who swept the New Orleans Pelicans 4-0 in their first round series in the Western Conference.
Memphis now will get a few days off before traveling to Golden State for Game 1 of the West semis finals on Sunday and Gasol can't wait to take his break.
"It feels great," Gasol said. "It feels great to have a little time off to do some things around the house.
"I'm going to have a little time to be with my little girl. It's actually great to be home."
On Wednesday night at the FedExForum, Gasol scored 26 points and grabbed 14 rebounds and Lee finished with 20 points on 8-of-12 shooting to lead the way for Memphis.
Randolph added 16 points and eight boards and Jeff Green, although struggling on the night, chipped in with 10 valuable points and seven rebounds for the Grizzlies, who struggle from behind the arc after going 1-of-14 from long distance.
For Portland, C.J. McCollum connected on 7 of his 11 three-pointers on his way to scoring a career-high 33 points off the bench.
McCollum impressive performance saw him scoring the most points by any Trail Blazers reserve in the playoffs in franchise history. His seven 3s were also the most in a playoff game in Portland's history.
However, it was an irritating night of shooting from the field for Damian Lillard, as the star guard could only manage 8-of-19 on shooting, while going 1-of-8 from three-point attempts in the defeat for the Trail Blazers, who was hoping for a win that would have extended their season.
Lillard finished the night with 22 points, while LaMarcus Aldridge, who went 5-of-18 from the floor, ended with 14 points and nine rebounds in the loss.
"We're one of the top offensive teams in the league, and we never felt that rhythm," Aldridge told reporters. "That's disappointing for us.
"We know that this team is a lot better than what we played. I'm mad about going home so early.
"I'm disappointed in not getting to the second round."
Portland finished with 38 rebounds, but were out-hustled on the offensive glass 15-5 by the Grizzlies, who ended with 56 total rebounds.
Si quieres conocer otros artículos parecidos a UPDATED: NBA Playoff Scores- Wins For Hawks, Grizzlies puedes visitar la categoría NBA Reports.