NATAL, Brazil (SportingAlert) — Forward Luis Suarez is again at the center of controversy after he appeared to have bitten an Italian player during the World Cup clash at Arena das Dunas on Tuesday.
The Liverpool and Uruguay striker found himself tangled up with Italy defender Giorgio Chiellini inside the penalty area.
Chiellini appeared to have elbowed Suarez, who retaliated as the pair both went down on the pitch.
During that moment, replays showed Suarez bit Chiellini, who did all he could to show the referee what had happened – pulling down his shirt to show the mark on his shoulder.
"It was ridiculous not to send Suarez off," Chiellini told Rai TV. "It is clear, clear-cut and then there was the obvious dive afterwards because he knew very well that he did something that he shouldn't have done."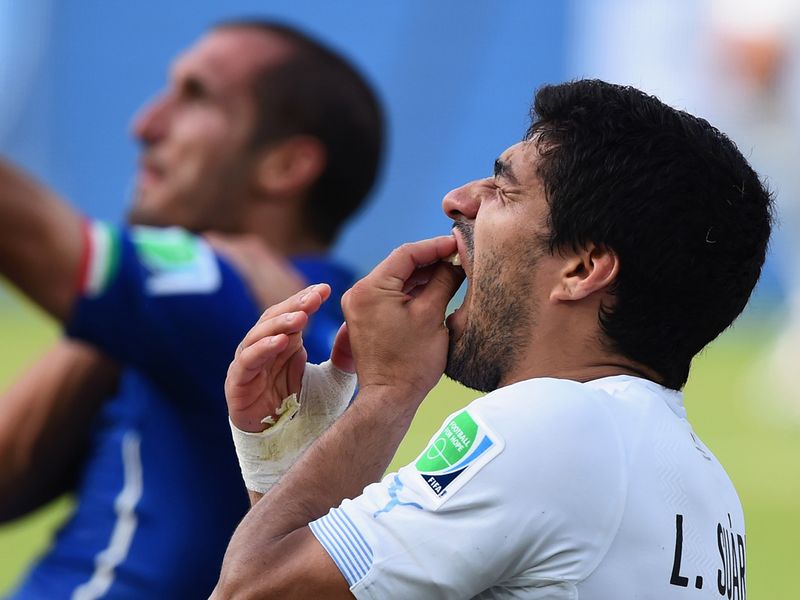 "Tell me Suarez didn't eat someone. He was the hero a couple a days ago," former England and Manchester United defender Rio Ferdinand said on his Twitter account.
A coaching staff of Italy was sent to the stands by Mexican referee Marco Rodriguez, as protests over the Suarez biting incident continues.
Reports in Brazil are saying that FIFA is already demanding an investigation into the incident, which could see Suarez banned from the rest of the tournament if found guilty of wrong doing.
Former Republic of Ireland midfielder Kevin Kilbane said: "The Luis Suarez biting incident is incredible.
"I can't see him playing any more at the 2014 World Cup."
Former England and Liverpool striker Michael Owen added: "Tell me I'm seeing things. Surely Suarez didn't bite someone again?
"I'm genuinely gutted. I love watching him play more than any other player but he obviously can't control himself."
Meanwhile, a goal by defender Diego Godin send Uruguay through to the last 16 with Costa Rica, and his winning header from a corner kick came just one minute after Suarez bit Chiellini.