LOS ANGELES (Sporting Alert) — The Los Angeles Clippers will try to take a 2-0 lead in their Western Conference quarter-finals series against the San Antonio Spurs when the sides meet in Game 2 on Wednesday night. Tickets Information 3505 

available

 from $50 | Live Streaming is on TNT Overtime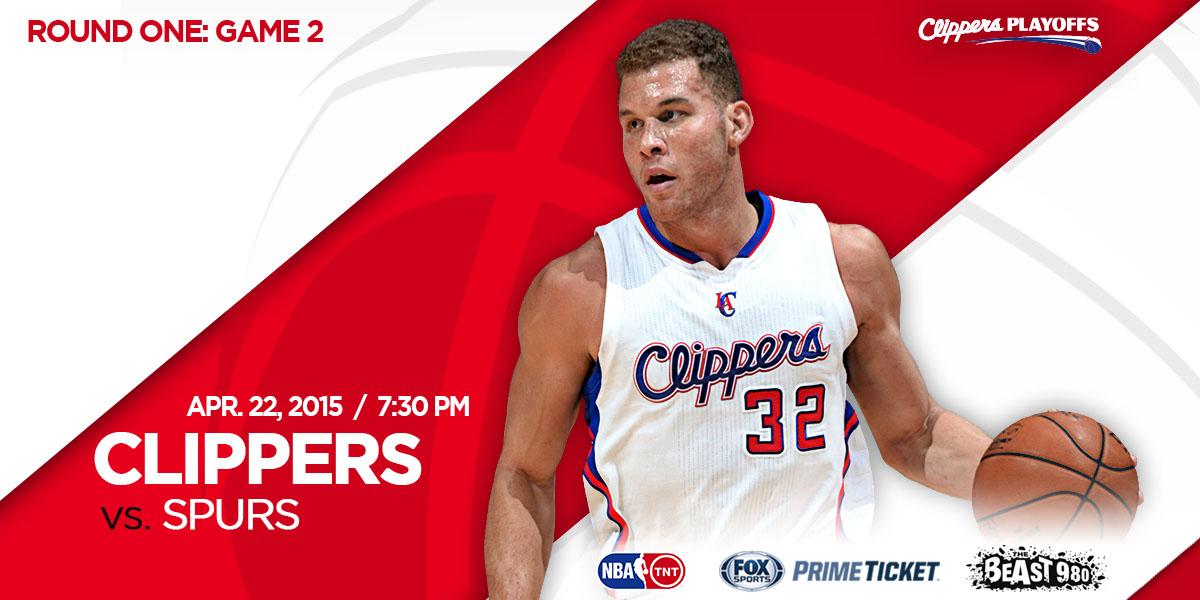 Chris Paul scored 32 points, seven rebounds and six assists and Blake Griffin added 26 points and 12 boards for the Clippers, who took Game 1 by a score of 107-92 and looked very good doing so as well.
"The Clippers must do something this or head coach Doc Rivers must start to look at other pieces," one LA fan said.
"There are a lot talents and a lot of hype surrounding this club at the moment and the team must go on a run."
The Clippers shot 51.3 percent from the field in the first game, but more importantly held the defending champions Spurs to just 36.6 percent in that area — something the hosts would like to do again, come Wednesday night.
Rivers admits that his team has a lot of confidence heading into Game 2, but added that they remain cautious.
"They're still the defending champs, and they're going to be the defending champs every night," Rivers said.
Blake Griffin in action for
LA Clippers
.
"We have a lot of confidence in our team, but you just have to stay humble and respect who you're playing."
Paul also believes the Clippers can still improve on certain plays.
"We know we gave up a lot of open shots, and most nights they're gonna make 'em," the All-Star guard said.
"So there's a lot of things that we need to clean up."
DeAndre Jordan, who pulled down 14 rebounds and had four blocks and Jamal Crawford, who netted 17 points off the bench, include hitting 3-of-4 from three-point range, both play major parts in the Clippers' win at the weekend.
"(Jordan) maybe the most athletic center in the history of the game," Spurs veteran Manu Ginobili  told the NBA's official website.
"He's just very intimidating, there's no way around it. It's something that we know, and it forces us to change our shots."
For San Antonio, coach Gregg Popovich will be hoping for more production from the likes of Danny Green, who was a disappointing 2-of-11 from the field in Game 1 for six points and Ginobili, who also struggled to get going in the opener.
The Spurs will also be hoping that star point guard Tony Parker can shake off his ankle and thigh injuries to make a useful production for the road team.
Parker will suit up Wednesday for San Antonio, despite being bothered by an ankle problem, the LA Times reports.
Michael Stewart of CabonSports.ag is reporting that the Clippers are again the favourites among bettors in Game 2. Covers.com reports that "82 percent of the action on the over 207."