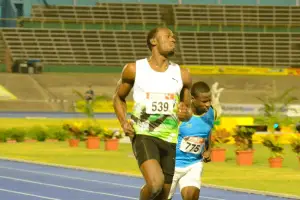 KINGSTON, Jamaica (Sporting Alert) — Warren Weir and Yohan Blake beat training partner Usain Bolt in his season opener over 400 metres at the Camperdown Classic at the National Stadium in Kingston on Saturday.
The trio who swept the 200m in London last summer, did not run head-to-head, but Weir and Blake both posted faster times than the two-time sprint double Olympic champion.
Bolt clocked 46.71seconds to easily win his heat, but Weir, who won the 200m bronze medallist at the London Olympics last year, produced 46.21secs to win the meet overall, while Blake, who trailed Bolt twice at the Olympics, ran 46.64 to follow Weir in the same heat.
There was no final for the event.
"I felt a bit nervous," Bolt said. "I just came out here to win and I'm glad I won injury free."
The sprint double world record holder, who ran past quarter-miler Riker Hylton in the last 40m, added: "46.71 this time of the season shows that I am in good shape."