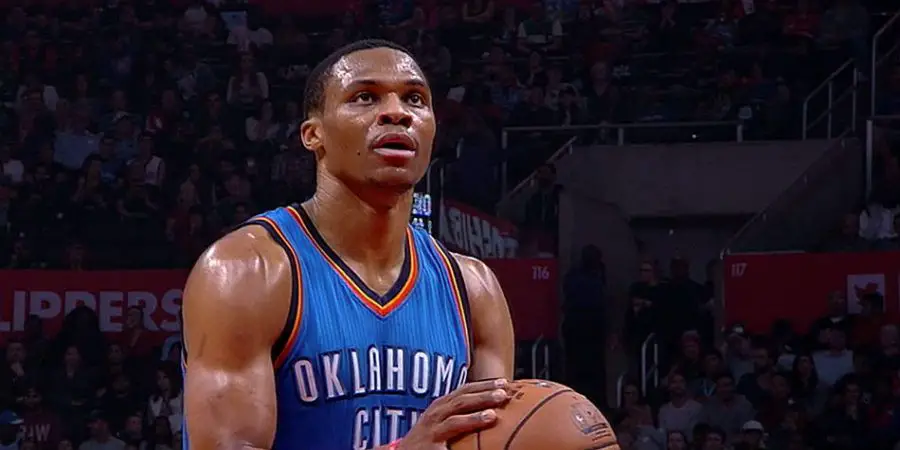 Westbrook Grabs Triple-Double; George Held To 10; Thunder Beat Pacers
OKLAHOMA CITY, Sporting Alert — Russell Westbrook collected his second triple-double of the season and the Oklahoma City Thunder beat the Indiana Pacers 114-96 on Wednesday night.
"We took a positive step tonight, really on both ends of the floor," Thunder coach Billy Donovan said. "I really thought our guys gave great effort defensively, and I thought we had some really great moments offensively.
"We shared the ball — 26 assists. We got a little bit stagnant in periods, but overall, I really liked the way we were trying to move the ball to one another. Just another step forward."
With Paul George struggling against his former team before eventually fouling out with 10 points, Westbrook picked up the slack.
"That hasn't happened often in my career," George said. "Fortunate to have those guys carry me. They know how big this game was for me, and they went out and got it for me."
Westbrook, the reigning MVP posted 28 points, 16 assists and 10 rebounds to lead the Thunder (2-2), who scored 25 points off turnovers on Wednesday night.
"He was great tonight," Donovan said of Westbrook. "Overall, I felt like he surveyed and managed the game and the floor, moving guys around. He did an exceptional job."
Carmelo Anthony finished with 28 points and 10 rebounds, and Steven Adams added 17 points and 11 rebounds for Oklahoma City, which had dropped its two previous games heading into this contest.
George, who joined the Thunder in a trade from Indiana in the summer, shot 4 of 8 from the field before fouling out with 6:15 remaining. He fell into early foul trouble and was limited to just 19 minutes.
Former Thunder shooting guard Victor Oladipo scored 35 points on 11 of 18 shooting with five 3-pointers and five rebounds to lead the way for the Pacers.
"Just another game I was trying to win," Oladipo said. "I'm locked in on just bringing it every night. I take them one game at a time. That's what my focus is."
"Victor's been playing really well for us," Pacers guard Darren Collison said. "He has a good flow.
"It's good to have a player like that, that can get it going the way he's been getting it going. Hopefully we get some wins with that and make us productive."
Collison added 18 points and Thaddeus Young ended with 14 points for Indiana (2-3), which shot 33.7 percent in the defeat.
UP NEXT
Oklahoma City Thunder will visit the Minnesota Timberwolves on Friday seeking to avenged the 115-113 defeat from last Sunday when Timberwolves' Andrew Wiggins connected on a buzzer beating shot from near half-court.
Indiana Pacers will play host to the San Antonio Spurs on Sunday.