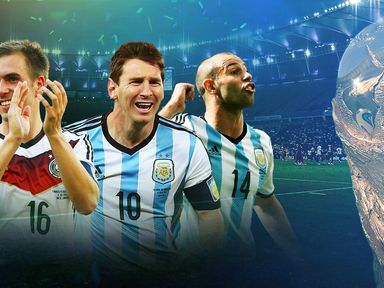 RIO DE JANEIRO (Sporting Alert) — The finals of the 2014 FIFA World Cup marks the end to what has been an exciting tournament in Brazil. Watch live streaming on ESPN3, Watch ABC and WatchESPN.
Today, 3:00 PM ET on ABC, ESPN3 – World Cup Final
Estádio Maracanã, Rio de Janeiro
The culmination of all the football talents in the world have led to this point in time. This World Cup has not been without its controversy, there has been more than enough drama to sustain the viewership. Brazil finished the tournament in stunning fashion losing two consecutive World Cup games.
But the focus now turns to the final game of the tournament on Sunday July 13th, when Argentina takes on Germany to declare a world champion.
Interestingly, the final pits arguably the best defense against arguably the best attacking team at this year's World Cup.
Germany are coming off a sound thrashing of Brazil in the semi-finals, which has led to many, including SkyBet, backing them to go all the way and lift the title.
The Germans make frequent use of short passes, combining to make a quick running attack.
At the other side of things, Argentina, led by Lionel Messi, will use a crushing combination of sharp defend and counter-attacking football to bypass the likes of Bastian Schweinsteiger and Sami Khedira in the holding roles for Germany.
The teams have faced long odds to get to this position, and the results will be nothing but a teeth-gnashing, heart-pounding final.
Argentina, who beat the Netherlands in a shootout in the semi-finals, after both teams played to a 0-0 draw, have been tenacious, therefore many suspect that the game will be low scoring.
Surely we will not see another result such as the 7-1 blowout that Germany handed to Brazil in their semi-finals round, with the most popular score being 1-0 for either team. Bayern Munich forward Thomas Muller, who is on five goals at the tournament, is eying the golden boot and he has been backed to be on the scoresheet on Sunday.
The pundits also believe that Germany will need to attack early in order to make the match competitive, with Messi and company expected to be organized. It is doubtful that Joachim Low side will rest on its laurels either, regardless, it appears that this final is shaping up to be a classic.